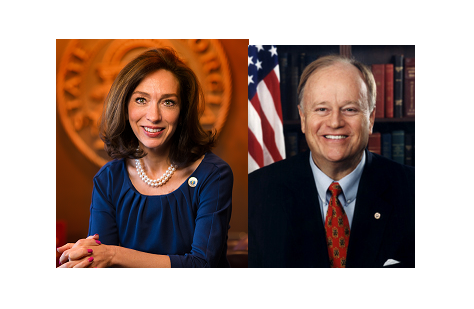 A former United States Senator from Georgia is throwing his weight behind a Democratic contender vying for the chance to challenge Republican Senator David Perdue.

Max Cleland, who served in the U.S. Senate from 1997 to 2003, formally endorsed former Mayor of Columbus and Democrat candidate Teresa Tomlinson.
In a campaign email from Team Tomlinson, Cleland said the following:
Before I served Georgia in the state senate, as Secretary of State, and in the United States Senate, I was serving our country in Vietnam. I also had the honor of leading the Veterans Administration under President Carter.
I know how important it is to have leaders who honor the sacrifice that our soldiers, veterans, and military families make.
I'm supporting Teresa Tomlinson for U.S. Senate because she's a leader we can count on to serve military families and do so much more.
As Mayor of Columbus, Georgia, Teresa also served as head of Public Safety and Homeland Security. She worked closely with the Army's Fort Benning and she holds a National Security Secret Clearance with the Department of Defense as a result. She's ready to serve Georgia on day one.
I trust Teresa to do what is right — to ensure veterans and their families have the healthcare they need, consumer protection from predatory lenders, and to lead the Senate in addressing climate change and other pressing threats to our national security.
The endorsement came down the same day Senator Elizabeth Warren's presidential campaign announced plans to invest resources into "helping" Georgia Democrats in the state's two Senate contests next year.
In a memo, Warren Campaign Manager Roger Lau wrote: "…we're targeting our resources to invest in places that will be critical to keeping the House, taking back the U.S. Senate, and regaining ground in key state legislatures in 2020… It also includes states like Maine, which has a competitive Senate race and Georgia, where there will be two Senate seats up for election."
Tomlinson has also earned the endorsement of Former Georgia Governor Roy Barnes, Ambassador Andrew Young, and a handful of local officials in Georgia.