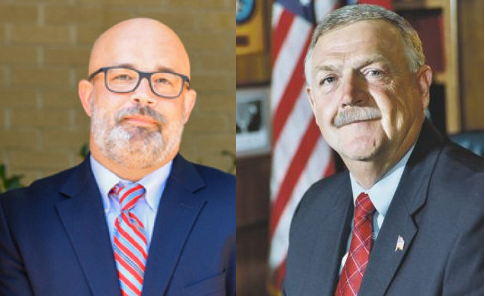 Cobb County Sheriff Neil Warren will stop blocking political opponents on Facebook and will pay damages to a citizen, the public learned this week after a settlement following a federal lawsuit. 
Warren was sued by a political rival and former CCSO Investigator Jimmy Herndon after Herndon was barred from posting comments on the Sheriff's personal Facebook page. Two employees, Commander Robert Quigley and Deputy Glenn Daniel, were also named in the lawsuit.
Court documents show that each of the three defendants – Warren, Quigley, and Daniel, will pay Herndon $750 and $29,000 in legal fees. Notably, the Sheriff also agreed to restore posting privileges on his Facebook page for Herndon and, as a result, the settlement means that Herndon will not pursue the civil suit any further. Any other person blocked on Warren's page will also be unblocked, according to the paperwork.
Neither of the three defendants, however, are on the hook personally. Cobb County taxpayers will foot the $30,000 bill. Additionally, according to the Atlanta Journal Constitution, "the settlement cost does not include time the county attorney spent on the case, or hours billed by a private law firm hired by Cobb to assist." A county spokesperson told the news outlet that those numbers are not yet available. 
The American Civil Liberties Union (ACLU) sent Warren a letter almost a year ago informing him that courts had deemed it unconstitutional to block dissenting comments and only allowing positive commentary on the Facebook page. After nine months, Herndon filed a lawsuit in federal court, citing conspiracy to violate constitutional rights and constitutional rights violations. 
On his campaign page, Herndon called the need for a lawsuit 'unfortunate' and said "Sometimes you have to take the longer and more difficult path and fight when your rights are being trampled."
Meanwhile, Warren has referred to Herndon as a 'disgruntled' former employee and all three defendants "expressly denied liability" in the suit. The settlement is not a legal admission of guilt. 
The courts have held that even personal Facebook pages of public officials are subject to free speech protections if they are used to promote the public official in their official capacity. Warren routinely posts about Sheriff's Office activities on his personal page.
Herndon and Warren will face off in the November General Election as Herndon is running on the Democratic ticket.