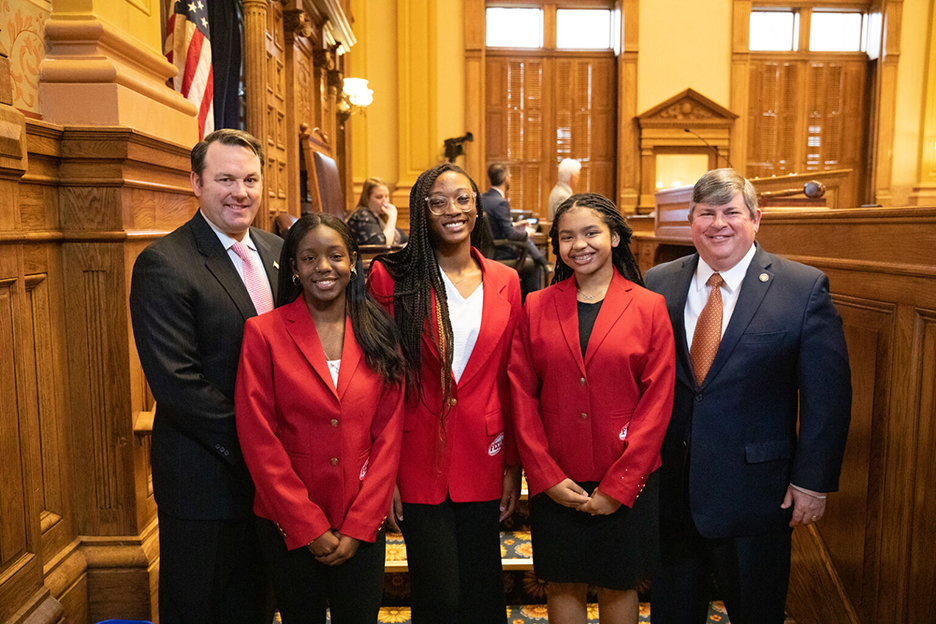 By: Sen. Larry Walker (R – Perry)
We have completed week six of this year's general assembly session, and the pace of activity has dramatically increased. The Senate has been hard at work passing a total of 17 bills this week, the most that have been considered thus far in the 2023 Legislative Session. Committees continue to operate at full speed as the workload continues to pile on. Bills we took up on the floor this week dealt with combatting crime and gang activity, increasing penalties for human trafficking offenses, cracking down on invasive telemarketers, expanding the workforce, and more.
As I previously mentioned, gang violence, terrorism, and human trafficking was a common theme in the Senate this week as several bills were passed covering these areas, some with bipartisan support. Senate Bill 44, known as the "Gang Terrorism and Prevention Act," and sponsored by Governor's Administration Floor Leader, Sen. Bo Hatchett (R – Cornelia), would establish a mandatory minimum sentence for individuals who are partake in gang activity. Specifically, this mandatory minimum sentence would apply to individuals who have knowingly recruited a minor to participate in gang activity or any gang related crime. It is no secret that Georgia has experienced a rapid increase in gang violence and crime within our state lines. What is even more concerning is when the violence spreads to the point of impacting Georgia's children. Often times, gang activity involves hardened criminals. These individuals have no regard for the safety and security of minors and under no circumstance should these acts of violence be tolerated. Since his first term, Gov. Kemp has made it abundantly clear that gang violence and crime will not be tolerated in Georgia. I imagine this will be the first of many measures taken up this legislative session that address the Governor's top priority to crack down on violent criminal gangs and do all that is necessary to keep Georgians safe. I am proud to support this legislation and look forward to seeing it on the Governor's desk in the coming months.
On a similar note, legislation to address concerns related to human trafficking was brought to the Senate floor for a vote. Senate Bill 42, sponsored by Sen. Mike Hodges (R – Brunswick), another Senate Floor Leader for the Governor, seeks to increase penalties associated with the failure to properly comply with the National Human Trafficking Resource Center Hotline. Like Gov. Kemp, First Lady Marty Kemp has spearheaded the fight against human trafficking throughout her service to Georgia. SB 42 would further penalize those who fail to properly report incidents of human trafficking to the resource center's hotline. Again, these measures are necessary and imperative when it comes to ensuring the safety and security of our citizens.
I am eager to provide you with an update on Senate Bill 110, the "Back the Blue Act." On Wednesday, SB 110 was heard and properly vetted in the Senate Committee on Insurance and Labor, a committee as you know, I have the distinct honor of chairing. The committee had the opportunity to hear from Mike Mitchell with the Georgia Sheriff's Association as he offered his full support of the legislation on behalf of the Sheriff's Association. SB 110 ultimately seeks to show support for our sheriff's departments in Georgia as they are often the first line of defense when it comes to keeping our communities safe. I am pleased to report that SB 110 was favorably reported out of committee and will now make its way to the Rules Committee. I look forward to hopefully presenting this bill on the Senate floor in the near future.
While the General Assembly remains hard at work, the legislative session also serves as a time for many visitors and honored guests to get a glimpse of the action under the Gold Dome. This week, I had the pleasure of welcoming a group of students from Bonaire Middle School's Family, Career and Community Leaders of America (FCCLA) organization to the Senate Chamber. The group was joined by their advisor, Mrs. Michaela Fitzwater, who teaches Family and Consumer Sciences at Bonaire Middle School along with my son, Mr. Wade Walker, who teaches 8th Grade Georgia History at Bonaire Middle School. It was a pleasure to welcome these young leaders to the Georgia Senate. I am proud of their interest in state government and the workings of the General Assembly, and I applaud the community involvement and service work of FCCLA chapters here in Middle Georgia. Also this week, the Senate welcomed members of the Georgia Farm Bureau organization to celebrate Georgia Farm Bureau Day at the State Capitol. The Georgia Farm Bureau is Georgia's largest and strongest voluntary agricultural organization with thousands of members eager to serve farming families. Agriculture remains the driving force behind Georgia's thriving economy and because of this, it's vital that we continue to show our support to Georgia's farmers, and farming industries. It was a pleasure to recognize members of Georgia Farm Bureau in the Senate chamber.
As the Senate has now reached the halfway point of the 2023 Legislative Session, I anticipate the workload will only grow as we quickly approach Crossover Day. I look forward to continuing to provide you with updates from the Capitol and as always, please do not hesitate to reach out to my office if you have any questions or concerns regarding legislation. It is an honor to serve the 20th Senate District here in Atlanta.
---
Sen. Larry Walker serves as Secretary of the Senate Majority Caucus. He also serves as Chairman of the Insurance and Labor Committee.  He represents the 20th Senate District, which includes Bleckley, Dodge, Dooly, Houston, Laurens, Pulaski, Treutlen and Wilcox counties.  He may be reached by phone at 404.656.0095 or by email at larry.walker@senate.ga.gov.