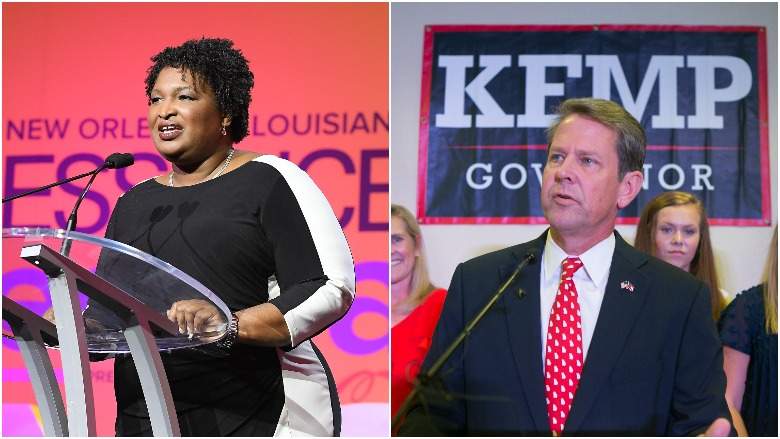 Democratic candidate for Governor Stacey Abrams released a series of proposals Monday, calling it her 'comprehensive plan to make sure Georgians can access quality, affordable health care." Her opponent, Brian Kemp, says her health care plans would require a tax increase for Georgians.

Abrams plans include the possible creation of a Georgia Premium Stability Program which "would control premiums and make sure coverage remains affordable for Georgia families with private insurance," a plan to bring down Georgia's infant and maternal mortality rates, and protect reproductive health care access for women, and thirdly, Abrams promised to expand Medicaid.
The Abrams campaign said in a press release that the expansion of Medicaid would cover nearly 500,000 more Georgians, save rural hospitals, and generate 56,000 new jobs across the state.
"Access to health care is essential for all Georgians to have the freedom and opportunity to thrive," Abrams said in a press release. "As governor, I will help nearly half-a-million uninsured Georgians get covered through expanding Medicaid, adding $8 million dollars a day to our state's economy and keeping our rural hospitals open. I will also explore a Georgia Premium Stability Program through the Affordable Care Act so Georgians can afford their insurance, and I will expand access to essential health services for women."
From the press release:
Republicans' refusal to expand Medicaid has left Georgia as the state with the 3rd highest uninsured rate in the country.[1] Stacey Abrams led the fight to expand Medicaid in the legislature and will make it a top focus as governor. Medicaid expansion will cover almost half-a-million Georgians and draw $3 billion annually ($8 million per day) into our state to pay for doctors, nurses, and hospitals.[2] It will create 56,000 jobs—60% of which will be outside of Metro Atlanta. It will grow local economies, reduce uncompensated care that drives up costs for all Georgians, benefit employers thanks to healthier workers, and save rural hospitals from closure. And that only scratches the surface of the benefits of Medicaid expansion.
After Medicaid expansion closes the coverage gap, Georgians may still be vulnerable to losing health insurance due to rises in the cost of premiums. Georgia's premiums have risen by 50% in recent years, and our state leaders must be innovative to stop these skyrocketing costs for self-employed Georgians. The Affordable Care Act allows for federal 1332 State Innovation Waivers so states can explore flexibilities to increase health care access and combat rising premiums. A handful of states are already using such flexibilities to create reinsurance programs, offering stability for premiums in the individual market by leveraging federal dollars to cover some costs for high-cost conditions.[3] Similar programs have already reduced premiums in Alaska and Minnesota.[4] Additionally, expanding Medicaid would help lower premiums for all Georgians: research shows that Medicaid expansion can lower average monthly premiums in the private individual market by 7 to 11%.[5]
As governor, Abrams will:
Expand Medicaid. Abrams will fulfill her longtime goal of expanding Medicaid for Georgians in every region of our state, leading to lower rates of uninsured citizens, major employment gains, and drastic help for rural areas.
Protect the Affordable Care Act. She will protect the ACA provisions that ensure no Georgian can be denied coverage because of a pre-existing condition like asthma, cancer and diabetes.
Explore creating a Georgia Premium Stability Program. Abrams will explore a federal 1332 State Innovation Waiver to create the Georgia Premium Stability Program, which would build on the ACA and keep more money in the pockets of Georgians by reducing vulnerability to loss of health insurance due to a rise in premiums.
Background: Women's Health
More than half of Georgia counties do not have an OB-GYN provider, 64 lack a pediatrician, and our state has one of the highest maternal mortality rates in the nation. A holistic approach to increasing access to high quality care is needed to provide better outcomes for our mothers and babies.
Stacey Abrams is committed to protecting Roe v Wade and making sure women have access to a full range of reproductive health care. Under Stacey's leadership, no TRAP (Targeted Restrictions on Abortion Providers) legislation has passed in Georgia, and she has received the national Champion for Women's Health Award from Planned Parenthood Action Fund and received local support from the Feminist Women's Health Center.
As governor, Abrams will:
Address Georgia's high maternal and infant mortality rates. Funding rural hospitals via Medicaid expansion is a crucial first step in addressing this issue. Abrams will also leverage state and federal programs to incentivize more doctors and medical personnel to work in under-served areas and reduce our maternal and infant mortality rates. She will also expand support for telehealth and home visiting programs so pregnant women can more easily access specialists.
Protect reproductive health care access. Stacey Abrams helped lead the fight to protect reproductive health care access in the Georgia House and will continue to stand firm for reproductive rights as governor, including standing against TRAP legislation.
Republican challenger Brian Kemp said Monday as well that healthcare plans by Abrams' would require a hike in income taxes of Georgias to pay for the increased costs.
From the Kemp campaign:
For Abrams, expanding Medicaid is simply another step towards her ultimate goal of a single-payer health care system that puts bureaucrats – not doctors – in charge of the patient's medical decisions. Abrams' radical plan will literally bankrupt our state while making it harder for Georgia families to receive the care they need.
"Stacey Abrams thinks bigger government and higher taxes will enhance access and lower costs on hardworking Georgians," said Cody Hall, Press Secretary. "She's wrong.
"As governor, businessman Brian Kemp will champion healthcare solutions that lower premiums and prescription drug costs while improving access for patients. By allowing businesses and associations to group together, offering High Risk Pools, raising the cap on the Rural Hospital Tax Credit, and creating reinsurance exchanges for commercial markets, Kemp will make healthcare affordable and enhance health outcomes for Georgians – no matter their zip code."
The pair will face off, alongside Libertarian Ted Metz, on Tuesday, November 6th.