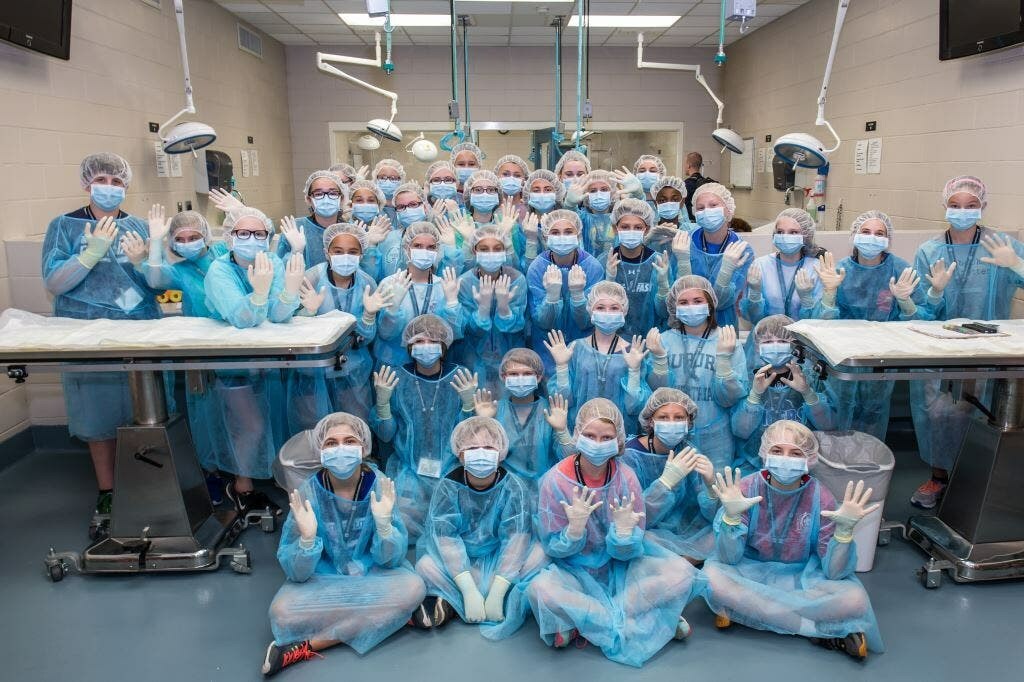 Winners will take part in the Become a Veterinarian Camp from June 18 – 23, 2023, at Auburn University College of Veterinary Medicine.
Nineteen states. Forty-five young people. And this summer, immeasurable benefits from early exposure to the joy of veterinary medicine. Vet Set Go, the first web-based community dedicated to helping young aspiring veterinarians, announced today the winners of this year's "Become a Veterinarian Camp Contest."
With generous support from VCA Animal Hospitals, scholarships were awarded to 45 aspiring veterinary professionals, 4 from Georgia, who will attend the Become a Veterinarian Camp this summer, hosted by the Auburn University College of Veterinary Medicine.
"The incredible interest in the competition and passion that jumped off the page of each entry was inspiring," said Chris Carpenter, DVM, founder and president of Vet Set Go. "Opportunities like the Become a Veterinarian Camp are like gold for aspiring veterinarians and it's an honor to work with partners like VCA and Auburn to offer this once-in-a-lifetime scholarship opportunity."
While attending the Become a Veterinarian Camp, contest winners will learn about veterinary medicine first-hand in Auburn University classrooms, clinics and laboratories. Programs include an array of species, ranging from dogs to raptors to cattle. Campers learn about public health, agricultural animals, wildlife, anatomy, imaging and first aid. They learn first-hand from current veterinary students about education and careers in veterinary medicine. Camp participants will also experience Auburn's vibrant campus while residing in student dormitories, eating at campus dining facilities and enjoying evening social and recreational activities. Campers have fulltime counselor supervision.
"There's a lot of joy in this field. It's what attracted me and was a big part of my decision at an early age to pursue a career caring for animals," said Todd Lavender, DVM, president for VCA Animal Hospitals. "Each submission in this year's Vet Set Go competition spoke to the heart that we have in this profession and the commitment we each feel to doing our part to make a difference. I'm incredibly proud that VCA is supporting this program, caring for the future of veterinary medicine by supporting tomorrow's professionals."
Winners of this year's competition reflected a wide swath of the United States, representing Wisconsin, Kentucky, Delaware, Georgia, Illinois, California, Arizona and 12 other states – with entries from young people in metropolitan, suburban and rural areas. They shared a common passion for animals with many speaking to not just a love of animals but admiration for the bonds between pets and people. The winners are:
Kay Lynn A

., 

Alabama

Kinley R., 

Alabama

Zara O., 

Arizona

Caroline U., 

Arizona

Bryelle W., 

Arizona

Sarah V., 

California

Chloe W., 

California

Noelle W., 

California

Addison M., 

Delaware

Laura B., 

Florida

Kelsea F., 

Florida

Samantha G., 

Florida

Makai R., 

Florida

Brianna R., 

Florida

Emma W., 

Florida

Rebekah B., 

Georgia

Haylee C., 

Georgia

Cameron D., 

Georgia

Karmen S., 

Georgia

Leila Q., 

Illinois

Adam S., 

Illinois

Ka'mora S., 

Illinois

Ryan S., 

Illinois

Julia D., 

Kansas

Stella D., 

Kentucky

Kenna G., 

Kentucky

Amelia L., 

Kentucky

Avery P., 

Kentucky

Abrianna S., 

Kentucky

Mollie W., 

Kentucky

Alyse B., 

Louisiana

Adalia L., 

Missouri

Aurora M., 

New Hampshire

Ruby R., 

New York

Delanee W., 

North Carolina

Kiana G., 

Pennsylvania

Sarah B., 

South Carolina

Julia C., 

South Carolina

Lydia K., 

South Carolina

Finley M., 

Texas

Sophia V., 

Texas

Avery W., 

Texas

Elizabeth Y., 

Washington

Reese F., 

Wisconsin

Piper H., 

Wisconsin
"The Become a Veterinarian Camp creates an incredible opportunity for young professionals to get hands-on with our field. It's an honor for VCA to sponsor the scholarships, making the camp and this profession overall more accessible to more people," said Dr. Timbrala Marshall, urgent care medical operations leader for VCA. "A critical piece of ensuring the sustainability of the veterinary field is to attract and invite in a wider group of young people, people who reflect the diverse communities we serve every day."
As part of Mars, VCA understands that positively impacting the veterinary profession means planning across generations. To learn more about VCA Animal Hospitals and its programs for aspiring veterinary professionals, visit www.VCAhospitals.com. To learn more about Vet Set Go or the Become a Veterinarian Camp, visit www.vetsetgo.com.
---
About Vet Set Go
Vet Set Go is the first and only web community dedicated to helping teen and tween aspiring veterinarians explore their passion. Founded by Dr. Christopher Carpenter in 2006, Vet Set Go encourages future veterinarians to pursue their dream and shows them how they can start today through such resources as its award-winning Vet Set Go book and the online Vet Academy shadowing courses. Vet Set Go's Vet Volunteer app is the best way for students to find local volunteer opportunities while tracking their volunteer hours for veterinary college applications. Vet Set Go also introduces STEM subjects to aspiring veterinarians through online courses like "Introduction to Animal Anatomy" and free case study articles on the website. Proceeds from Vet Set Go sales help aspiring veterinarians through events like the "Become a Vet Camp Contest" and Vet Set Go book giveaways to students in need. For more information, visit www.vetsetgo.com.
About VCA Animal Hospitals
A leader in veterinary care, VCA Animal Hospitals is committed to taking care of the future of veterinary medicine. We are a family of hometown animal hospitals determined to positively impact pets, people and our communities. From general practice to emergency and specialty care, VCA delivers world-class medicine and hometown care to more than four million pets each year. We invest in cutting-edge tools, training and technology that enable Associates across our national network of hospitals to lead the industry today and into tomorrow. Among our talented 35,000 Associates are nearly 7,000 veterinarians – including 430 who are board-certified specialists – nearly 4,000 credentialed technicians and over 10,000 veterinary assistants – all dedicated to giving pets the very best in medical care.
As part of the Mars Veterinary Health family of brands, VCA is taking care of the future of veterinary medicine to help achieve the Mars Petcare Purpose–A Better World for Pets™. To learn more about VCA, visit: www.vca.com or find us on Facebook, Instagram, Twitter and LinkedIn.
About Auburn University College of Veterinary Medicine
The Auburn University College of Veterinary Medicine is a premier accredited veterinary college guided by an enduring commitment to animal health, human health and a One Health approach to improving life through veterinary medicine and biomedical science. Founded in 1892 as the South's first veterinary medical program, Auburn's College of Veterinary Medicine provides innovative curriculum for undergraduate, graduate and professional students driven to excel in a diverse, inclusive society. Auburn's comprehensive campus empowers researchers to expand and leverage scientific understanding to improve the health and well-being of animals and humans, while protecting the environment.
---
SOURCE VCA Animal Hospitals