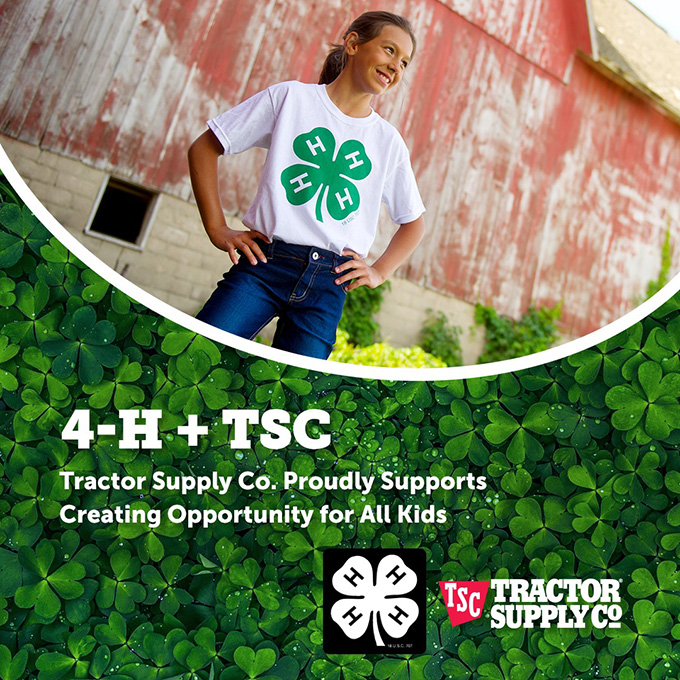 Tractor Supply Company, in partnership with National 4-H Council, recently kicked off of its fall Paper Clover campaign.

Since its inception in 2010, the biannual fundraiser has generated more than $20 million dollars in scholarships for 4-H youth. Donations from the campaign strengthen educational programs and provide opportunities to help students develop the skills necessary to take on proactive leadership roles and pursue training in their desired fields.
From October 4-15, customers can purchase a paper clover at checkout in stores nationwide or online at TractorSupply.com. Ninety percent of all donations will directly support 4-H youth in the state in which the donations were made, while the remaining 10 percent will support national 4-H programming.
"Having surpassed $1 million in contributions with the Spring fundraiser, we are excited to build on the success," said Kimberley Gardiner, chief marketing officer at Tractor Supply. "Each Paper Clover fundraiser contributes significantly to our mission of ensuring that as many young people as possible can access the incredible resources offered by 4-H, including the opportunity to attend a transformative 4-H summer camp in D.C. We continue to witness firsthand the profound impact this fundraiser has on the lives of children and teenagers, providing them with essential life skills. We look forward to further expanding our outreach with the upcoming fall campaign."
Paper Clover donations support students like David Banks, from Texas 4-H, who was able to attend the National 4-H Conference in Washington, D.C. in Spring 2019. While there, he participated in a series of youth-led discussions, which gave him the chance to speak with members of the House of Representatives on challenges facing the agriculture industry.
Soren Hottensmith, from Ohio 4-H, used a portion of the funds raised to attend 4-H Camp Canopy, which emphasizes education in forestry and natural resources. He hopes to pursue a career in forest resource management or a similar field.
"As a 4-H alum, I am incredibly proud to be launching Fall Paper Clover during National 4-H Week," said Jill Bramble, President and CEO of National 4-H Council. "Tractor Supply was my go-to store when my kids were in 4-H, and it is such an important asset in rural and suburban communities. The Paper Clover campaign has funded boundless opportunities for 4-H'ers to find their spark and explore career paths."
4‑H is America's largest youth development organization, empowering nearly six million young people with the skills to lead for a lifetime. Its research-based programming includes activities in the areas of health, science, agriculture and civic engagement, and the guidance and life-long skills necessary to succeed in college and career.
For more information on Tractor Supply's Paper Clover campaign in support of 4-H youth, visit www.TractorSupply.com/4H.
---
Source: Tractor Supply Company