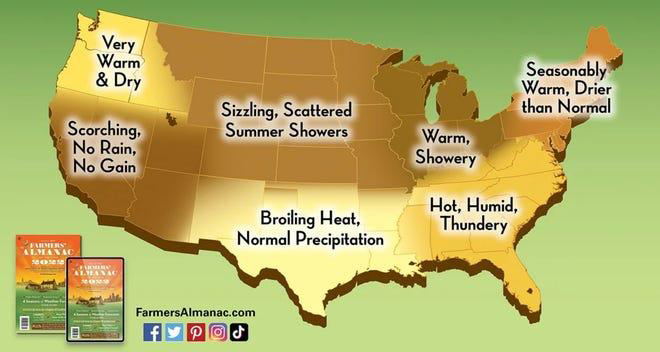 The Farmers' Almanac recently released its 2022 summer forecast outlook and it looks like this year's summer weather is going to be remembered as a hot one across the United States. Georgia is predicted to be hot, humid, and thundery. Seems like typical summer weather for Georgians, which started before today, the official first day of summer.
The almanac forecasted the transition from spring to summer to be stormy in many areas of the United States, especially along the East Coast and Great Lakes regions, where they predicted some big thunderstorms. They added that during the middle to latter part of July, Dog Days of Summer, most of the nation will experience brutally hot conditions. The Southeast, however, is also expected to see wetter-than-normal conditions. As far as hurricanes, the almanac is predicting, with the traditional peak of hurricane season occurring on September 10, a potential hurricane threat along the Atlantic Seaboard in mid-September.
Now through the end of the month for the Southeast:
20th – 23rd

Turbulent for Gulf Coast; big storms for the rest of the Southeast through the Virginias.

24th – 27th

Hazy skies, oppressively hot, uncomfortably humid.

28th – 30th

Scattered showers, then turning fair.
Southeast predictions throughout the month of July:
1st – 3rd

Fair skies but oppressively humid.

4th – 7th

Heavy thunderstorms from Deep South north and east to Carolinas.

8th – 11th

More scattered showers, thunderstorms.

12th – 15th

Drying out and heating up.

16th – 19th

Sultry conditions, then scattered thunderstorms.
---
See more on farmersalmanac.com