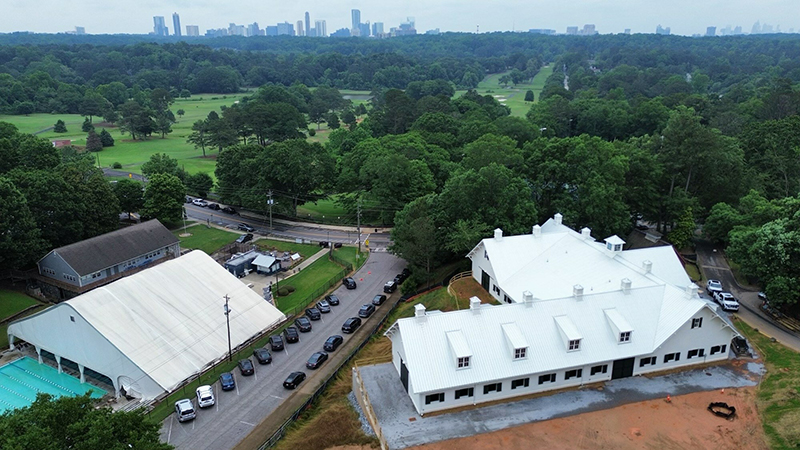 WHO:       

Chastain Horse Park, 4371 Powers Ferry Road, NW, Atlanta. A 501(c) (3) organization
WHAT:       
Completion Phase 1, $9 Million Expansion. Estimated Phase 2 Completion:  Q3 2024
WHY:           
IN SUPPORT OF EXPANSION OF CHASTAIN HORSE PARK'S PREMIERE ACCREDITED THERAPEUTIC RIDING PROGRAM
Chastain Horse Park (CHP) has completed its first phase of a $9 Million expansion on time and on budget. This phase of construction includes a new Community Barn supporting CHP's Boarder Program complete with a covered practice arena.
Phase Two will commence in July with construction of a Therapeutic Horsemanship Center which includes clinical and educational spaces and an additional covered arena. Completion of the plan is expected in (Q3), 2024. Executive Director Trish Gross said, "We look forward to this next phase and the completion of the THC which is critical to expansion of our nationally recognized Therapeutic Riding Program. We are grateful to our key partners, architects T.S. Adams Studio, Macallan Construction, and Grovestreet Partners who have gone above and beyond in making this phase of the project successful.  We are also excited to welcome Georgia Home Theater, Landplus Landscape Architecture, and Michael Jackson Landscape Company to the project."
The new facility will enable CHP to expand the breadth and depth of impact of their therapeutic programming throughout all of metro Atlanta and beyond. The program focuses on serving children, teens, and adults with physical cognitive and emotional disabilities as well as underserved and at-risk individuals, all in partnership with horses. CHP remains one of only two urban horse parks in the U.S. Also, it is Premiere Accredited by the Professional Association of Therapeutic Horsemanship (PATH), International.
Mayor Andre Dickens recently praised the expansion, the result of a successful "Healing Through Horses" capital campaign. He said the initiative "… can expand the impact on our community. We want to help close the gap. Of 41 zip codes in Atlanta, Chastain Horse Park serves 32. That means Chastain is city wide. Where we live should not be a barrier to the quality of life you can have and have access to."
Facility rental, boarding program, and riding lessons partially contribute to subsidies necessary for programming. Scholarship supporters include Boehringer Ingelheim's BI Cares Foundation (animal and human pharmaceuticals), Molly Blank Foundation, Junior League, RISE Scholarship Foundation, and individuals.
---
SOURCE Chastain Horse Park