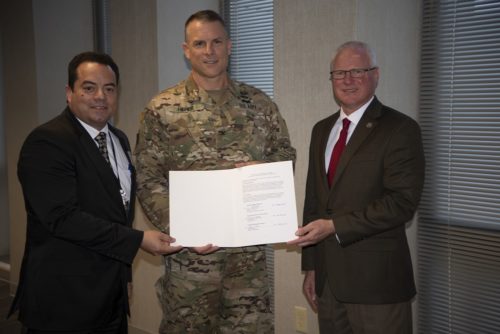 The Georgia Department of Transportation (DOT) and its partners—Federal Highway Administration (FHWA) and the U.S. Army Corps of Engineers (USACE)—conducted a signing ceremony to update environmental Local Coordination Procedures (LCP), a framework to improve consistency and streamline the permit process for GDOT projects under Guidelines of the Clean Water Act.

"LCP went into effect in 2002 and while they have been successful, it was time to review and revise the procedures and update them to today's expectations and standards. The new LPC better support a project's full compliance with all environmental standards, and ultimately a better quality project is delivered," said Georgia DOT Commissioner Russell R. McMurry, P.E. "We are very excited about the new Local Coordination Procedures."
Under the revised LPC, interagency consultation now begins during early project planning and is completed prior to concept approval, which will result in greater efficiency throughout the environmental process and project development.
The new procedures align with GDOT's Plan Development Process to include sequential steps that focus on avoiding or minimizing environmental impacts due to GDOT's construction projects.
Integrating the USACE 404(b)(1) Clean Water guideline requirements and interagency consultation with Georgia DOT's project development steps enables the Department to leverage existing environmental and design activities.
Other benefits of the new framework include:
Adaptable for each project; recognizes that a "one size fits all" approach doesn't acknowledge the unique circumstances of each project
Promotes earlier and more meaningful discussion with better outcomes
Brings all environmental disciplines to the table to reduce design re-work
Applicable for federal and state funded projects
Easily integrates into the scoping phase of the Environmental Impact Statements prepared by the Department
Compatible with both design-bid-build and design-build project delivery models.
"This is a positive step forward in improving Georgia DOT's ability to efficiently deliver quality projects that are fully compliant with environmental standards," McMurry said. "Georgia DOT is grateful for the commitment of the individuals and agencies who got us here – the U.S. Army Corps of Engineers, Federal Highway Administration, and individuals too numerous to mention."
Information from GDOT