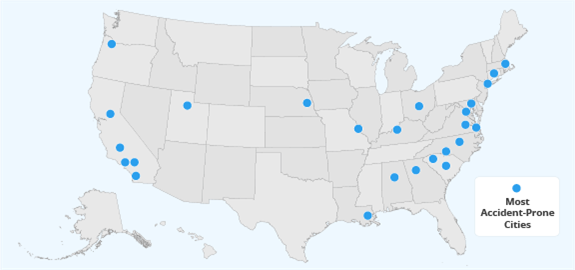 Every time you hit the road, you're at risk of getting in a car accident, but a recent study shows that some cities are more prone to be home to accidents than others.

The information is from QuoteWizard, an online insurance comparison marketplace. Using over a million data points on car accidents, including self-reported driving infractions data from consumers, the study ranked the cities from worst to best.
In this week's Map Monday, we take a look at the results.
From the most accidents to the least, these are the 25 most car accident-prone cities in the US:
Columbus, OH
Louis, MO
Los Angeles, CA
Sacramento, CA
New Orleans, LA
Charlotte, SC
Columbia, SC
Washington DC
Baltimore, MD
Greenville, SC
Portland, OR
Salt Lake City, UT
Omaha, NE
New York, NY
Atlanta, GA
San Diego, CA
Richmond, VA
Louisville, KY
Bakersfield, CA
Hartford, CT
Boston, MA
Durham, NC
Virginia Beach, VA
Riverside, CA
Birmingham, AL