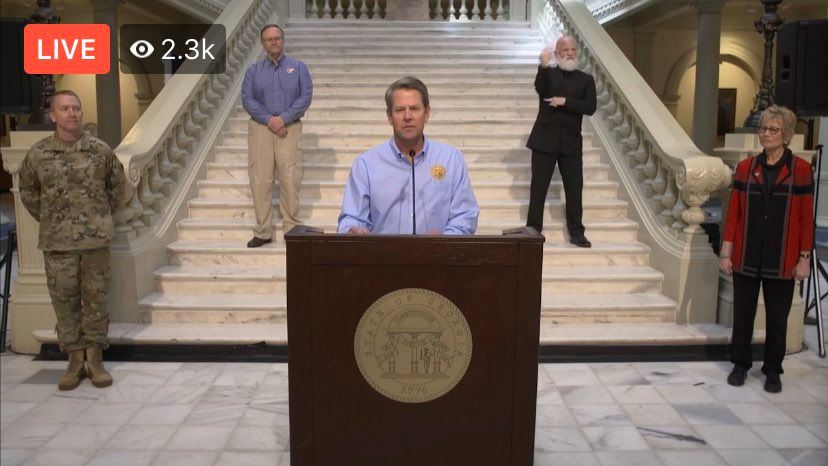 Governor Kemp held a press conference Wednesday, accompanied by DPH Director Kathleen Toomey and GEMA Director Homer Bryson, from inside the Georgia State Capitol.

Kemp began by thanking the Georgians who have followed the Shelter in Place order and stayed home, doing their work to help flatten the curve. "We're continuing to make great progress," while also thanking all those working on the front lines to care for those who are sick. 
Kemp said he's working with Department of Agriculture Commissioner Gary Black to reaffirm support of Georgia's oldest industry – farming. While farmers have are set to have good crops, the market is limited. 
"I will continue to make the concerns known to our federal partners and ask them to keep our farmers at the top of their minds as they work for Phase 4 Stimulus Package," Kemp said.  Kemp asked Georgians to purchase Georgia-made and Georgia Grown products. "Every purchase matters."
Kemp also praised the Georgia Department of Labor for processing unprecedented unemployment applications around the clock. 
Governor Kemp highlighted a number of actions taken in the last week, to include:
the Georgia National Guard has been deployed to long-term care facilities around the state to clean facilities

36 infection control teams, 67 facilities in the last 6 days. 7-10% of the state's nursing homes each day.

Once we reach 100% of the facilities, "the General will start over again."

increased resources allocated to mitigate resources at long-term facilities and hospice facilities

mandating more aggressive in long-term facilities, including requiring that:

Facilities must adopt infectious disease transfer protocols with area hospitals

Visitors are strictly prohibited except in compassionate care situations

Group activities must be canceled for all residents, in-room dining only

Employees must wash hands after interaction with resident

Screen employees and residents for fever and respiratory distress

Employees showing symptoms or exposed must self-quarantine for 14 days

Utilize hospital-grade cleaning products

National Guard & DPH will issue additional directives to facilities
Kemp will take additional executive action to:
Activate additional 1,000 Georgia National Guard members

Extend the Shelter in Place Order through April 30, 2020

Suspend statewide short-term rentals (residential rentals used for vacations for 30 days or less) through Thursday April 30th

does not include hotels, motels, and campgrounds
does not include vacation rentals fully-paid and executed before 12AM on April 9, 2020
does not include those rentals being used as a primary residence
This story is developing.