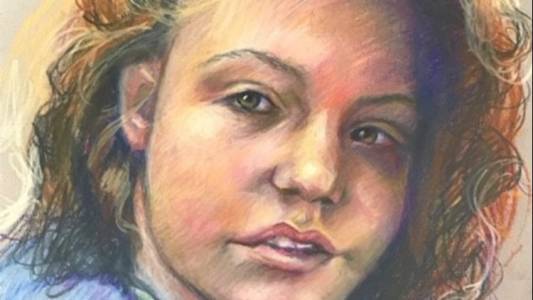 An unidentified female found murdered in Brooks County in 1981 has been identified as SHIRLENE "CHERYL" ANN HAMMACK.
On Saturday, October 31, 1981, the Brooks County Sheriff's Office requested assistance from the GBI Region 9 Field Office with a homicide investigation. The body of an unidentified white female had been discovered beside a small, dirt lane entrance to a corn field, in the Dixie, Georgia community. The victim had been partially covered by fresh cut limbs and foliage to conceal her and the crime. The victim was described as about 5'2",105 pounds, with shoulder length brown hair, and hazel eyes. She was believed to be between 18 to 24 years of age. The cause of death was determined to be from a stab wound to her abdomen with associated strangulation. Following common practice without positive identification, she was given the name of "JANE DOE."
Shortly after JANE DOE'S murder, GEORGE NEWSOME, age 52 at the time, was arrested. It was learned he was part of a traveling fair that was in the town of Quitman, Georgia during the time. JANE DOE was believed to also be employed with this traveling fair, but this was unknown. At the time of his arrest, NEWSOME was in possession of a stolen motor home from another state. A later search of the motor home resulted in the recovery of a rope that had been used as a ligature to strangle JANE DOE. In addition to the strangulation, JANE DOE had been stabbed in the abdomen with a large knife. The knife was never recovered.
During the initial stages of the investigation, NEWSOME refused to cooperate with authorities and denied knowledge of the crime. Approximately one week after NEWSOME'S arrest, he escaped from the Brooks County Jail and remained a fugitive until his arrest on January 13, 1983, in Alabama. After NEWSOME'S arrest as a fugitive, NEWSOME admitted to the homicide of JANE DOE and stated he had met her at the Fair Grounds in Tallahassee, Florida prior to coming to Quitman, Georgia. NEWSOME said that he had gotten into an argument with her about another male. This argument eventually led to JANE DOE'S death. NEWSOME pled guilty and was sentenced to life in prison for her murder. NEWSOME died at the Augusta State Medical Prison on August 10, 1988 of natural causes. Prior to NEWSOME'S death, either by purposeful omission or by NEWSOME'S lack of knowledge, NEWSOME never disclosed JANE DOE'S identity.
For years following the murder of JANE DOE, the Georgia Bureau of Investigation and Brooks County Sheriff's Office exhausted all available means at the time to identify JANE DOE. Inquiries were sent across the State of Georgia and the United States regarding other missing females, who matched the description of JANE DOE in hopes of learning her identity. Prior to JANE DOE being buried, she was displayed at a local funeral home in Brooks County, in an effort for individuals to stop by and attempt to identify JANE DOE. Newspaper articles and other media outlets such as, "Unsolved Mysteries" were contacted in a continued attempt to identify her.
All the above efforts and countless hours of investigative work yielded negative results. JANE DOE was then buried at Oak Hill Cemetery in Quitman, Georgia. The Bunting family from Brooks County, Georgia graciously insisted that JANE DOE not be buried in a pauper's grave but be buried in their family plot in the cemetery. Instead of JANE DOE being buried in a wooden coffin, in an un-vaulted grave that was not marked, JANE DOE was buried in a quality casket, inside of a cement vault, with a marble slab over her resting place. A forensic sketch, which had been completed by the GBI during the investigation, was carved into the marble slab, along with the statement, "Known only to God."  The case remained open as agents and investigators sought and hoped for a break in the case.
On Wednesday, October 31, 2018, 37 years to the date of JANE DOE'S murder, the case agent was contacted by the Chief Deputy of the Brooks County Sheriff's Office regarding a tip from a citizen who had walked into the Sheriff's Office and alleged to have information on the identity of JANE DOE. The citizen was a possible childhood friend of JANE DOE. This citizen believed JANE DOE to be CHERYL HAMMACK. The childhood friend recalled that she knew that her friend, CHERYL, had gone missing in the latter part of 1981 after traveling with the fair. The age and description of CHERYL had remarkable similarities to JANE DOE which peaked her interest. The friend had seen a Facebook post made by an area citizen close to Brooks County about the case. This post was shared many times and that is how the childhood friend saw it.
This chain of events led GBI Agents and Brooks County Investigators to speak with and soon meet in person with CHERYL'S surviving family members: her mother KATHLEEN HAMMACK, her sister JOHNNIE HAY, and her sister LYNN JOHNSON. CHERYL'S family provided the full name of "Jane Doe" who is now identified as SHIRLENE "CHERYL" ANN HAMMACK. The description of SHIRLENE and the timeline/circumstances of her going missing were consistent with the facts of this investigation. SAC JAMY STEINBERG and SA STEVEN TUCKER arranged a meeting with the family members to obtain a known DNA sample from her biological mother KATHLEEN. Agents and investigators learned from the family of SHIRLENE, her mother had received a letter in the mail following SHIRLENE'S disappearance containing the contents of SHIRLENE'S wallet including her Georgia Driver's License. The envelope and contents did not have a return address.
The Georgia Bureau of Investigation, Brooks County Sheriff's Office, Brooks County Coroner, and Mr. Jim McGee of Stevens – McGee Funeral Services assisted in the exhumation of JANE DOE'S remains per a court order that was obtained. JANE DOE'S remains were exhumed and found to be in remarkable condition given the amount of time that had passed. The quality condition of her remains could arguably be attributed to a caring Brooks County community at the time of her passing and a local family that paid to have JANE DOE laid to rest in such a dignified manner in their family cemetery plot.
Once the casket containing remains were exhumed, it was then transported to the GBI Crime Lab in Macon by Coroner Joe Leverett and escorted by GBI Agents to obtain necessary DNA samples from JANE DOE. These DNA samples were obtained by a GBI Crime Lab Medical Examiner and staff for testing and comparison. After initial DNA tests were completed at the GBI Crime Lab in Moultrie, it was determined more advanced testing would be required and the samples were sent to the University of North Texas Center for Human Identification. Following extensive analysis of the DNA samples and a comparison process, it was determined that JANE DOE was the biological child of KATHLEEN. JANE DOE was finally identified as SHIRLENE HAMMACK. CHERYL HAMMACK is originally from Thomaston, Georgia. She took a job with the Fair which eventually brought her to Brooks County, Georgia in 1981.
The following contributed to this case and assisted the GBI and Brooks County Sheriff's Office.  We would like to acknowledge and thank them for their individual assistance and contributions:
Brooks County Coroner Joe Leverett
Jim McGee of Stevens – McGee Funeral Services
Steve Owens Transport Service
GBI Crime Lab – Macon, Georgia
GBI Crime Lab – Moultrie, Georgia
Kelly Lawson – GBI Forensic Composite Artist
GBI Intelligence Unit
University of North Texas – NAMUS