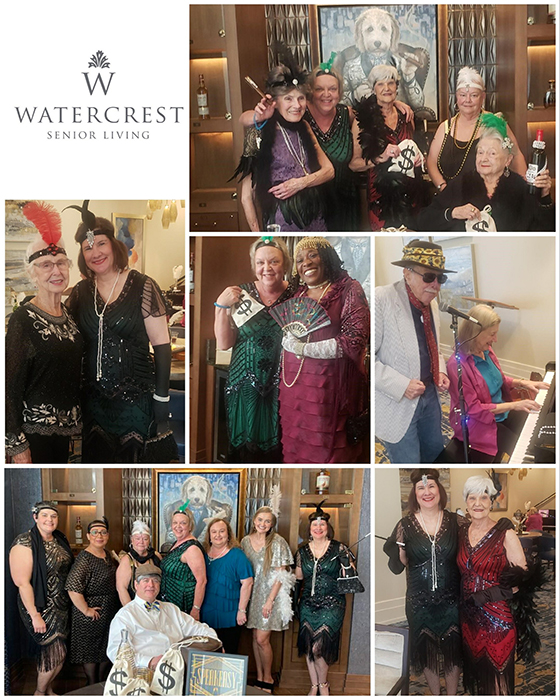 Jazzy tunes were drifting through the hallways as Watercrest Macon Assisted Living and Memory Care hosted a Roaring 20's party for residents, associates and friends.  Men donned their finest hats and ties while the ladies sparkled in jeweled flapper gowns, feather boas and ornate headpieces.
Guests gathered at their own speakeasy, Watercrest Macon's one of a kind cigar and scotch lounge named Bogey's, for a glass of 'hooch' or 'giggle water,' as it was called during Prohibition times. The lively notes of the piano had guests on the dance floor showcasing their best dance moves like 'the Charleston, the Shimmy, and the Fox Trot.'
"Our residents proclaimed this party as 'the Bees Knees' and 'the Cat's Meow,'" says Nat Watkins, Executive Director of Watercrest Macon. "As part of our Watercrest culture, we embrace the opportunities to engage with our residents through unique events that spark nostalgia and fond memories."
These events are part of the signature Live ExhilaratedÔ programming by Watercrest Senior Living.  At Watercrest Macon, residents are engaging in diverse and enriching programs whose benefits greatly exceed the traditional activities typically found in senior living communities. The Live Exhilarated™ program includes thoughtfully planned, multi-part programs inspired by individual resident's passions and interests which align with the seven facets of wholeness: Get Active, Be Curious, Get Connected, Be Uplifted, Get Creative, Be Social, Be Adventurous. These facets provide the framework for the Live Exhilarated™ program which focuses on celebrating the residents' story, encouraging their pursuit of new passions, optimizing their experience, and offering variety and choice to all residents.
Watercrest Macon is a signature Watercrest product comprised of 76 assisted living and 22 memory care residences with resort-style amenities and exceptional care.  The comfortably, classy design includes a stunning promenade, fireplace, multiple dining venues, Southern style outdoor living spaces, Art Studio and Gallery, and the charming atmosphere of Bogey's Cigar and Scotch lounge. The community's Southern style exterior gathering spaces, outdoor putting green, and gardening stations offer opportunities for social engagement and resident activity amongst the lushly landscaped grounds and illuminated walking paths. Additionally, residents enjoy the coveted Spa W offering world-class wellness amenities including a resort-style pool, light and salt therapy, and state-of-the-art fitness and physical therapy center.
Watercrest Macon is ideally located at 111 Providence Boulevard in Macon, Georgia near high-end residential, plentiful retail and dining establishments, as well as diverse cultural and entertainment venues. For information, contact the community at 478-400-7043.
---
About Watercrest Senior Living Group
Watercrest Senior Living Group was founded to honor our mothers and fathers, aspiring to become a beacon for quality in senior living by surpassing standards of care, service and associate training. Watercrest senior living communities are recognized for their luxury aesthetic, exceptional amenities, world-class care, and innovative memory care programming offering unparalleled service to seniors living with Alzheimer's and dementia. A five-time certified Great Place to Work, Watercrest specializes in the development and operations of assisted living and memory care communities and the growth of servant leaders.  For information, visit www.watercrestseniorliving.com.
---
SOURCE Watercrest Senior Living Group