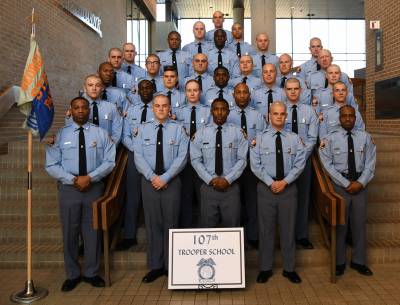 The Georgia State Patrol graduated its 107th Trooper School on Friday, January 10, at the Georgia Public Safety Training Center (GPSTC) in Forsyth.  After 32 weeks of intense training, 30 new troopers will report to one of the 52 patrol posts throughout the state. Governor Brian P. Kemp served as the keynote speaker and issued the Oath of Office.  Additionally, remarks were given by Colonel Mark W. McDonough, Commissioner of the Department of Public Safety and Capt. Joshua Lamb, Director of Training.

Trooper Cadets spend 20 weeks at the academy and 12 weeks in field training.  The Georgia Peace Officer Standards and Training Council (POST) requires all peace officers receive a minimum of 400 hours of Basic Mandate Training.  At the completion of Trooper School, these newly graduated trooper cadets received over 1,500 hours of training, including driving, defensive tactics, vehicle stops, Spanish, criminal law and criminal procedure, firearms, accident investigation, and various other training.
During remarks to his fellow class members, class president, Trooper Michael Fowler, reflected on how a diverse group of people put their differences aside and came together as one cohesive team. "A team who did the best they could to get to where they are today…Georgia State Troopers."
Four of the graduates received special honors for top performance in various fields of study. The honorees were:
Driving Proficiency – Trooper Michael Fowler
Firearms Proficiency – Trooper JayCee Shepard
Highest Academic Average – Trooper Marina Thrift
Top Gun – Trooper Zachary Walker
Trooper Thrift also received a $1,000 scholarship towards a bachelor's degree in Criminal Justice from Reinhardt University for having the highest academic average (99) in his class.
Additionally, the following graduates were recognized for their leadership: Trooper Corey Wheeles, Vice President; Trooper Taylor Genoway, Secretary/Treasurer; Trooper Seth Abbey, Chaplain; Trooper Barry Bennet, Sergeant-at-Arms; and Trooper JayCee Shepard, Pennant Bearer, and Trooper Willie Stephens; Pennant Base Bearer.
Each commissioned trooper will report to the following assigned post:
| | | |
| --- | --- | --- |
| TROOPER | HOME COUNTY | POST ASSIGNMENT |
| Seth Abbey | Lee | Post 10 – Americus |
| Philip Allen | Carroll | Post 4 – Villa Rica |
| Barry Bennett | Tift | Post 30 – Cordele |
| Kirk Brown | Gwinnett | Post 51 – Gwinnett |
| Brady Cooper | Hart | Post 6 – Gainesville |
| Brandon Crawford | Columbia | Post 25 – Grovetown |
| Antonio Curry | Twiggs | Post 20 – Dublin |
| Michael Fowler | Gilmer | Post 27 – Blue Ridge |
| Taylor Genoway | Fulton | Post 48 – Atlanta |
| Adrian Hargett | Lowndes | Post 15 – Perry |
| Mya Justice | Hall | Post 37 – Cumming |
| Keith Kammeraad | Forsyth | Post 37 – Cumming |
| John Leach | Lee | Post 39 – Cuthbert |
| Jared Marcum | Bibb | Post 44 – Forsyth |
| Steven McKinney | Camden | Post 23 – Brunswick |
| Christopher McNear | Emanuel | Post 19 – Swainsboro |
| Avery McWhorter | Carroll | Post 4 – Villa Rica |
| Vieux Ndoye | Chatham | Post 11 – Hinesville |
| Pedro Oritz | Lowndes | Post 36 – Douglas |
| Dillon Pate | Houston | Post 30 – Cordele |
| William Rivers | Treutlen | Post 18 – Reidsville |
| Monttez Shackleford | Carroll | Post 4 – Villa Rica |
| JayCee Shepard | Upson | Post 26 – Thomaston |
| Johnathon Simmons | Stephens | Post 6 – Gainesville |
| Willie Stephens | Washington | Post 33 – Milledgeville |
| Marina Thrift | Ware | Post 16 – Helena |
| Jocquez Timpson | Calhoun | Post 14 – Colquitt |
| Zachary Walker | Columbia | Post 25 – Grovetown |
| Corey Wheeles | Rockdale | Post 46 – Monroe |
| Cortney Williams | Spalding | Post 1 – Griffin |