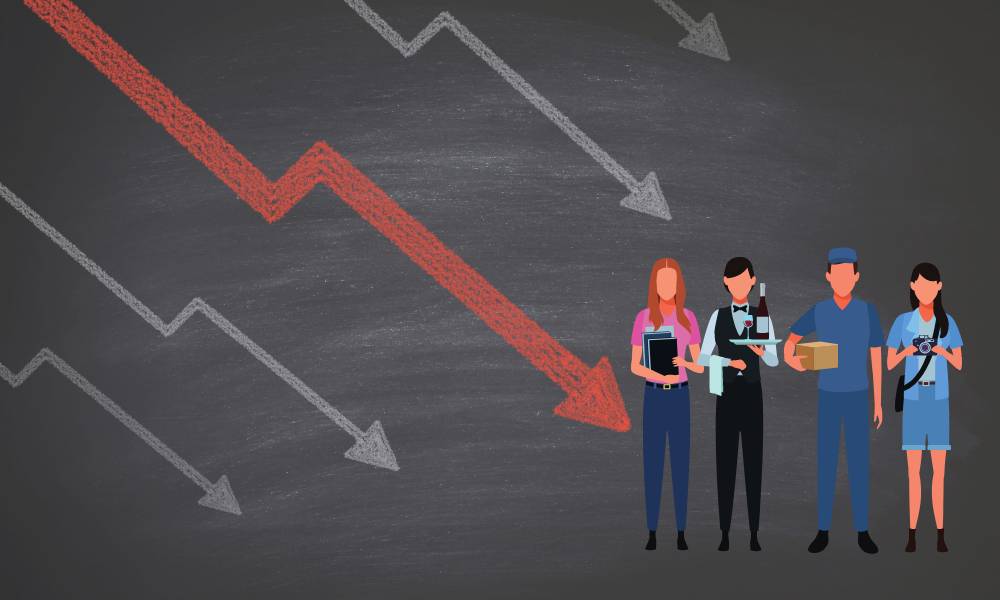 Governor Brian P. Kemp and the Georgia Department of Labor announced Friday that Georgia's unemployment rate in October dropped 1.8%, bringing the current unemployment rate to 4.5%, down more than 8% since the state's all-time high in April 2020 and below the national average.
"Thanks to our measured approach to the pandemic, fighting for people and their paychecks, Georgia continues to lead the nation in economic recovery as the fight with COVID-19 continues," said Governor Brian Kemp. "As the No. 1 State for Business eight years in a row, we've been able to avoid draconian budget cuts, secure our AAA bond rating, and ensure a safe return to work for countless Georgians in every corner of the Peach State.
"This is great news, but we will not rest on our laurels. To build on our momentum, we need all Georgians to remain vigilant and continue to follow best practices to stop the spread of the virus: wear a mask, wash your hands, socially distance, follow the guidance of public health officials, and get your flu shot if you have not done so already. These simple measures will go a long way in keeping our state healthy and on the right track as we head into a busy holiday season. We are still facing down a once-in-a-century global pandemic, and we will do what it takes to protect lives and livelihoods and ensure Georgia's safest, healthiest, and most prosperous days lie ahead."
The news on Georgia's unemployment rate follows the announcement last week that Georgia has once again been named the No. 1 State for Business by Site Selection Magazine for a record-breaking eighth consecutive year. The same week, the Georgia Department of Economic Development announced that, from the start of the new fiscal year to the end of October, Georgia announced the creation of more than 11,800 jobs and over $4.3 billion in new investment, outpacing the same period last year by 45% in jobs and 56% in investment.
The GDOL is planning an upcoming single employer multi-state event with Sitel for virtual and in person opportunities in GA, TN, SC, NC. The GDOL recently participated in another multistate virtual job fair with 1456 attendees and 13 employers. Follow EmployGeorgia Facebook for updates and announcements.
In October, the number of employed Georgians was up 227,202 to reach a total of 4,859,864, and the number of employed was up by 579,940 since April.
Georgia's labor force in October saw an increase of 145,120, totaling 5,091,317. That number is also up 196,921 since the start of the pandemic in April. In October, initial unemployment claims decreased by 3 percent (5,124) since September to reach 196,666.
Jobs in October increased by 25,000, reaching a total of 4,493,500. That number is down 136,600 compared to this same time last year. The job total listed online at EmployGeorgia has more than doubled since the beginning of the pandemic from the April 2020 listing of just 73,000 jobs.
The Georgia Department of Labor has paid nearly $16 billion in state and federal benefits since the beginning of the pandemic in March of this year. Last week, the GDOL issued $163 million in benefits, which include regular unemployment and federally funded Lost Wages Assistance (LWA) supplements, Pandemic Emergency Unemployment Compensation (PEUC), Pandemic Unemployment Assistance (PUA), Federal Pandemic Unemployment Compensation (FPUC), and State Extended Benefits.
Since week ending March 21, 2020, 4,050,224 regular UI initial claims have been processed, more than the last nine years combined (3.8 million).
The number of initial unemployment claims filed throughout the United States for the week ending November 14 was 742,000, an increase of 31,000 from the previous week's revised level of 711,000.
The sectors with the most weekly regular UI initial claims processed included Accommodation and Food Services, 4,155, Health Care and Social Assistance, 2,863, Administrative and Support Services, 2,258, Manufacturing, 1,763, and Retail Trade, 1,477.