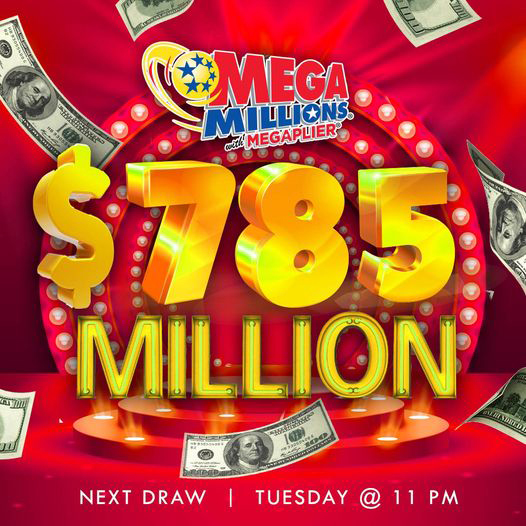 The new year is off to an exciting start with the Mega Millions jackpot for the Tues., Jan. 3 drawing at an estimated $785 million ($403.8 million cash). This is the fourth highest jackpot in the game's history.
The jackpot continues to grow after no ticket matched all six numbers drawn Friday, Dec. 30. Winning numbers for Friday's drawing were: 1-3-6-44-51 and the Mega Ball was 7. The Megaplier was 3X.
In Georgia, one $30,000 ticket was sold in Friday's drawing at West Point Chevron, 1860 Highway 18, West Point. The ticket increased from $10,000 to $30,000 with the Megaplier.
Additionally, five $10,000 tickets were purchased in Ambrose, Bainbridge, Madison, Union City and Warner Robins.
Players are reminded to check their tickets for one of the nine ways to win with prizes ranging from $2 all the way up to the jackpot prize.
Mega Millions winners in Georgia have 180 days from the draw date to claim prizes.
Mega Millions tickets can be purchased at Georgia Lottery retailers statewide. Georgia residents with a Georgia mailing address, who are located in Georgia at the time of purchase, can purchase Mega Millions tickets via the Georgia Lottery app or online at www.galottery.com.
Mega Millions tickets are $2 per play. Mega Millions players can multiply prizes with the Megaplier option for an additional $1 per play. Just the Jackpot is a $3 feature that offers two plays for the jackpot prize only.
As with all other Georgia Lottery games, proceeds from Mega Millions will benefit education in the state of Georgia.
 Since its first year, the Georgia Lottery Corp. has returned more than $25.7 billion to the state of Georgia for education. All Georgia Lottery profits go to pay for specific educational programs, including Georgia's HOPE Scholarship Program and Georgia's Pre-K Program. More than 2.1 million students have received HOPE, and more than 1.7 million 4-year-olds have attended the statewide, voluntary prekindergarten program.
MEGA MILLIONS FAST FACTS
Draw Date: January 3, 2023
Estimated Jackpot Amount: $785 million
Annuity Amount: Jackpot prize paid over 29 years in 30 graduated payments
Estimated Cash Option Amount: Approximately $403.8 million
Cost to Play: $2 per play; additional $1 per play to add the Megaplier option; $3 for Just the Jackpot
Drawings: 11 p.m. (ET) every Tuesday and Friday
Overall Odds of Winning Any Prize: Approximately 1:24
Odds of Winning Jackpot Prize: Approximately 1:302 million
Date Jackpot Began Rolling: Oct. 18, 2022
Last Winning Mega Millions Jackpot Ticket: Oct. 14, 2022 – $502 million jackpot (California and Florida)
#1 Mega Millions Jackpot: Oct. 23, 2018 – $1.537 billion jackpot (South Carolina)
#1 U.S. Jackpot: Nov. 7, 2022 – $2.04 billion Powerball jackpot (California)