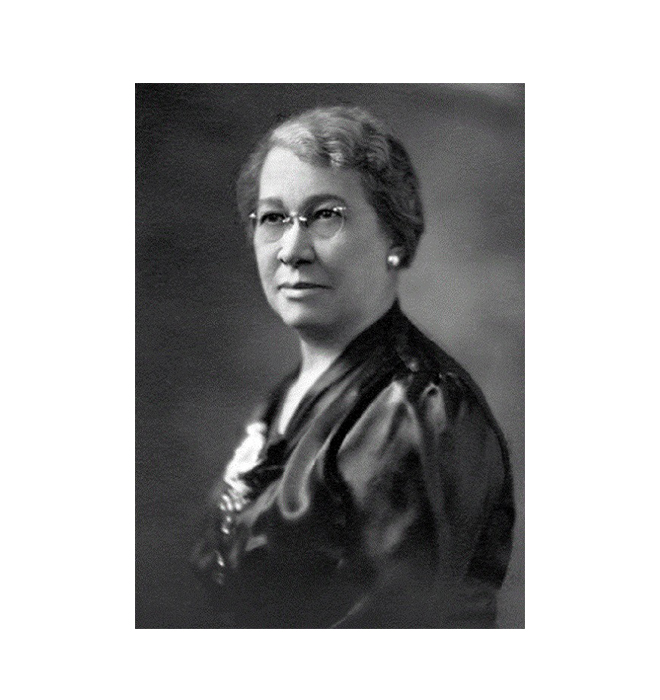 The Georgia Historical Society (GHS) will dedicate a new Civil Rights Trail historical marker recognizing African-American civic leader Lugenia Burns Hope (1871-1947) on Tuesday, June 13, 2023, in partnership with Mercedes-Benz USA and the Morehouse College Cultural Heritage Preservation Initiative. The dedication is open to the public and will take place at 11:00 a.m. at Graves Hall on Morehouse College's Century Campus, 830 Westview Dr. SW, in Atlanta.

"The Georgia Historical Society partnered with Mercedes-Benz USA and the Morehouse College Cultural Heritage Preservation Initiative to erect a historical marker highlighting the accomplishments of Lugenia Burns Hope," said Elyse Butler, GHS Marker Manager. "As a founder of Atlanta's Neighborhood Union (NU), Lugenia Burns Hope advocated for African Americans to have increased accessibility to social services and living conditions. GHS is pleased to add this new historical marker to the GHS Georgia Civil Rights Trail."
The marker will join more than 50 historical markers across the state that make up GHS's Georgia Civil Rights Trail, an initiative that uses historical markers to document the struggle for human and civil rights from the period following Reconstruction to the modern movement in the mid twentieth century.
"As Founding President of the Neighborhood Union, Lugenia Burns Hope was very much in the tradition of the Black Women's Club Movement, which sought to improve such things as housing, health care, and education for African Americans through self-help initiatives," said Dr. Clarissa Myrick-Harris, professor of Africana Studies and co-founder of the Morehouse College Cultural Heritage Preservation Initiative. "However, Hope was also an innovative social justice activist, who fought for desegregation and political empowerment of African Americans—including voting rights for women. Within the NU and the National Association for the Advancement of Colored People (NAACP) she led initiatives that laid the foundation for grassroots social and political activism during the Civil Rights Movement and became a model for community building around the world."
Lugenia Burns Hope spent her formative years in Chicago, Illinois, where she began a career in social activism, working at two charity organizations: King Daughters and Hull House, founded by Jane Addams. After marrying Dr. John Hope, a native Georgian and educator, they moved to Atlanta, where Dr. Hope began to teach at Atlanta Baptist College (later Morehouse College).
Mrs. Hope noticed social decay in segregated Atlanta's underprivileged Black neighborhoods. She and several other women formed NU in 1908, and she served until 1935 as its first president. NU recruited Morehouse students to conduct residential door-to-door surveys, evaluated the neighborhoods' needs and how to meet them, and began to address the issues. NU divided the city into sections, appointing representatives who reported and advocated for their residents in the larger organization. Mrs. Hope was also involved with many other organizations, including the Young Women's Christian Association, the National Association of Colored Women, President Herbert Hoover's Colored Advisory Commission, and the NAACP. After she died in 1947, Mrs. Hope's ashes were scattered near Morehouse College's Graves Hall.
---
ABOUT THE GEORGIA HISTORICAL MARKER PROGRAM
The Georgia Historical Society (GHS) administers Georgia's historical marker program. Over the last 25 years, GHS has erected more than 300 new historical markers across the state on a wide variety of subjects. GHS also coordinates the maintenance for more than 2,100 markers installed by the State of Georgia prior to 1998. Online mapping tools allow users to design driving routes based on historical markers, and a mobile app helps visitors locate and learn about markers nearby. Visit georgiahistory.com for more ways to use Georgia's historical markers and experience history where it happened. 
 
ABOUT THE GEORGIA HISTORICAL SOCIETY
Georgia Historical Society (GHS) is the premier independent statewide institution responsible for collecting, examining, and teaching Georgia history. GHS houses the oldest and most distinguished collection of materials related exclusively to Georgia history in the nation. 
To learn more visit georgiahistory.com.
---
GHS