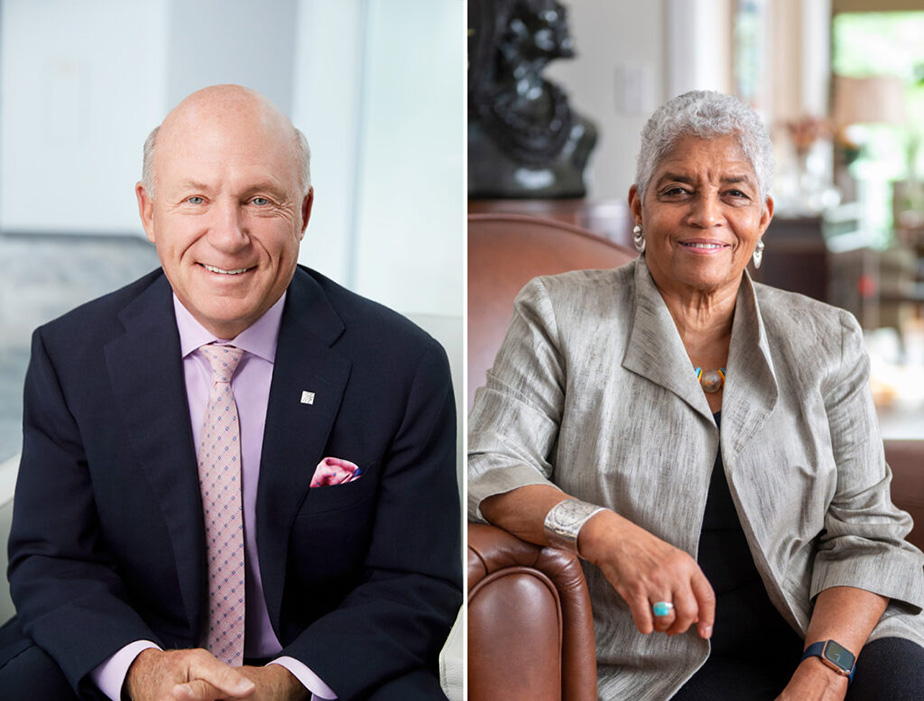 The Georgia Historical Society (GHS) recently announced that Dan Cathy, Chairman and CEO of Chick-fil-A, and Shirley Franklin, former Mayor of Atlanta and civic leader, will be inducted as the newest Georgia Trustees.
Both will be inducted by the Georgia Historical Society and Governor Brian Kemp on Saturday, April 30, 2022, at the Trustees Gala in Savannah. It is the highest honor the State of Georgia can confer.
"Shirley Franklin and Dan Cathy truly represent the Georgia Trustee's motto of 'Not for Self, But for Others,'" said Dr. W. Todd Groce, President and CEO of the Georgia Historical Society. "They are models of selfless leadership and of what can be accomplished when you live a life that puts others first. Their impact on Georgia and the City of Atlanta has been and will continue to be transformative in the history of our state. GHS is delighted to join with the Office of the Governor in conferring upon these two remarkable leaders Georgia's highest honor."
In conjunction with the Governor's Office, the Georgia Historical Society reestablished the Georgia Trustees in 2008 as a way of recognizing Georgians whose accomplishments and community service reflect the highest ideals of the founding body of Trustees. The original Georgia Trustees were a governing body chartered and appointed by His Majesty King George II of England in 1732 to establish a new colony in North America. They founded Georgia upon the principle of Non Sibi, Sed Aliis, "Not for Self, but for Others." The Governor annually appoints new Trustees whose history-making accomplishments and service reflect the original Trustees' ideals.
Dan Cathy
Dan T. Cathy has been chairman and CEO of Chick-fil-A, Inc., one of America's largest family-owned businesses, since 2013. The son of Chick-fil-A founder S. Truett Cathy, Dan's Chick-fil-A career began early. As a boy, he sang for customers and performed in radio ads for the chain's original "Dwarf House" restaurant in Hapeville, GA. Before becoming Chairman and CEO, Dan was President and Chief Operating Officer for 12 years. His previous roles include Senior Director of Operations, Vice President of Operations, and Executive Vice President.
Under his leadership, Chick-fil-A was named the top fast-food restaurant for customer service by Newsweek in 2019 and received multiple honors in QSR's 2019 Reader's Choice Awards, including "The Most Respected Quick-Service Brand" and "Best Brand for Overall Experience." In 2020, Glassdoor named Chick-fil-A one of the 100 best places to work.
Active in the Atlanta community, Dan is eager to serve his hometown by bringing people together and fostering new opportunities for those in challenging circumstances. He is actively working to improve Atlanta's Historic Westside communities in partnership with numerous business leaders, nonprofits, charities, and government agencies. A past chairman of The Carter Center's board of councilors, Dan serves on the boards of the Georgia Aquarium, the Metro Atlanta Chamber, the Atlanta Committee for Progress, Eagle Ranch, and Heritage Preparatory School.
A recipient of the Zig Ziglar Servant Leadership Award, Dan has been honored in Atlanta as the Herman J. Russell CEO of the Year by the Atlanta Business League, the Most People-Focused CEO at the inaugural Business Chronicle HR Excellence Awards, recipient of the Council for Quality Growth's Four Pillar Tribute, inducted in the Junior Achievement Atlanta Business Hall of Fame, recipient of the 2017 Film Critic Advocate Award from the African American Film Critics Association, and by the Urban League of Atlanta.
He holds a bachelor's degree in business from Georgia Southern University, is a graduate of Harvard Business School's Family Business Program, and holds honorary degrees from Pepperdine University, the University of West Georgia, the HBCA Entrepreneur Summit, Anderson College, and Carver Bible College.
The induction of Dan Cathy will mark the first time in the history of the modern-day Georgia Trustees that a father and son have both received the honor. Dan's father, S. Truett Cathy, was inducted with Herman J. Russell as a Georgia Trustee in 2013.
Shirley Franklin
Shirley Franklin was elected and served two terms as Mayor of Atlanta from 2002 to 2009. She was the first African-American woman to serve as Mayor of a major southern city, and under her leadership Atlanta experienced unprecedented growth.
During her eight years as Mayor, Shirley championed strict ethics legislation and implemented sweeping government operational reforms. She led the effort for the Atlanta BeltLine project and invested over $6 billion in improvements to Hartsfield-Jackson Atlanta International Airport, Atlanta city parks, affordable housing, and water infrastructure projects. An advocate with a deep passion and understanding for the importance of preserving history, Shirley led the effort to acquire the personal papers of Dr. Martin Luther King, Jr. for Morehouse College.
Shirley has served on numerous boards throughout her professional career, including Delta Air Lines, Mueller Water Products, and Purpose Built Communities. Currently, she chairs the Board of Directors of the National Center for Civil and Human Rights and is a member of the boards of the American Institute of Architects, the CDC Foundation, the Volcker Alliance, and Purpose Built Schools Atlanta.
Shirley has taught at Spelman College and was the Barbara Jordan Chair in Ethics at the Lyndon Baines Johnson School of Public Affairs at the University of Texas Austin. Before becoming Mayor, Shirley served in the administrations of Atlanta Mayors Maynard Jackson and Ambassador Andrew Young. A leader in government and business, she is a frequent speaker on leadership, public policy, and community engagement.
She has received numerous awards and honors, including the 2005 John F. Kennedy Profile in Courage Award from the John F. Kennedy Presidential Library and Museum, which honored her for her courageous leadership in restoring fiscal stability and ethical government to Atlanta.
A native of Philadelphia, Pennsylvania, Shirley earned her Bachelor of Arts Degree in sociology from Howard University and a Master's Degree in sociology from the University of Pennsylvania.
For more information on the Georgia Trustees, contact Patricia Meagher, Director of Communications, at (912) 651-2125, ext. 153 or by email at PMeagher@GeorgiaHistory.com.
---
ABOUT THE GEORGIA HISTORICAL SOCIETY
Georgia Historical Society (GHS) is the premier independent statewide institution responsible for collecting, examining, and teaching Georgia history. GHS houses the oldest and most distinguished collection of materials related exclusively to Georgia history in the nation.
To learn more visit georgiahistory.com.
---
Georgia Historical Society