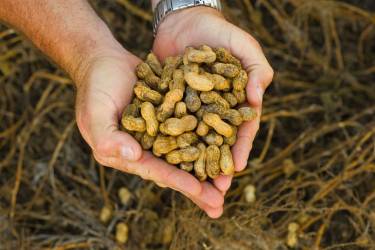 Georgia farmers are optimistic about the upcoming peanut season as they begin planting their crops.
Tyron Spearman, Executive Director of Peanut Buying Point Association, told WALB that the market outlook for peanuts is 'looking good this year for a growing area in Georgia that stretches along the coastal plain and as far inland as Augusta.'
"We'll probably be up this year about 10 percent on acreage, because of the poor competition. Cotton is down. Corn is down. Peanuts are running about 400 to 425 dollars a ton. So, peanuts become the best alternative," said Spearman.
The optimism is rooted in the increased consumption in the states due to the COVID-19 pandemic. Farmers are gearing up to produce enough peanuts to keep peanut butter on the shelves around the country.
WALB reported that markets are up 24% for exports, with China being a heavy purchasing power. Additionally, consumption is up 3.3%.
Approximately half of Georgia's peanuts are produced on dry land or on land without access to irrigation, which means growers rely on rain to produce a good crop. Adequate rainfall and slightly lower temperatures are ideal for Georgia's peanut crops, according to the University of Georgia College of Agricultural and Environmental Sciences based in Tifton.
Georgia farmers start planting peanuts in late March and finish in early July. There are between 700,000 and 850,000 certified peanut acres planted in Georgia each year. The peanut is Georgia's official state crop, bringing in more than $625 million in 2018. Georgia accounts for almost half of the peanuts produced annually in the United States – more than 2 billion pounds a year from 70 local counties