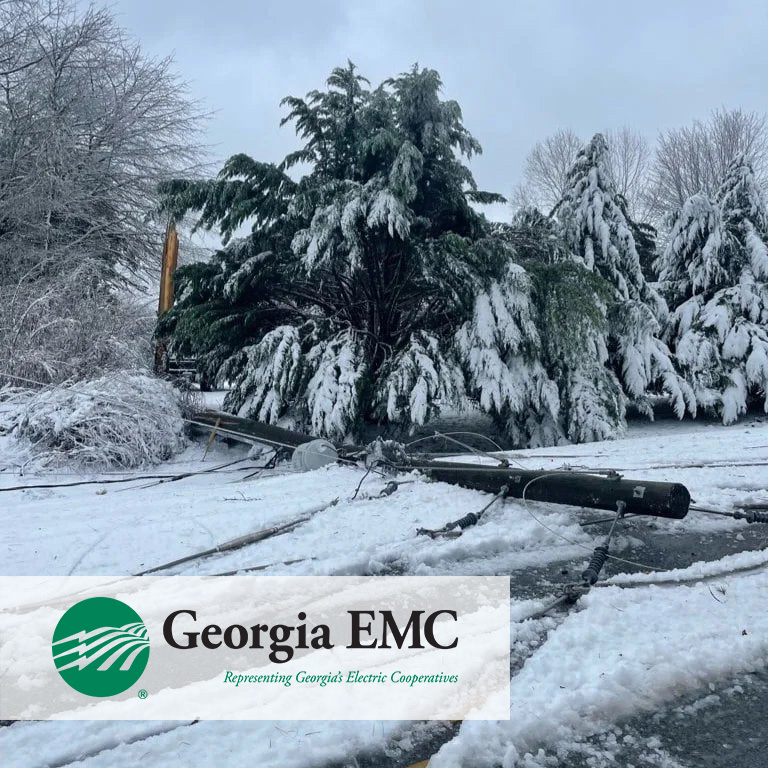 Georgia EMC released an update on power restoration of areas in Georgia affected by this past weekend's winter storm, specifically North Metro, North Central, and Northeast:
Georgia's electric membership cooperatives (EMCs) are reporting approximately 14,000 customers without power, down from 19,500 last night. New outages occurred overnight due to persistent high winds in some areas. Since yesterday, EMCs have restored service to more than 50,000 customers in difficult to reach areas.
This storm produced as much as eight inches of snow in some areas and caused heavy damage in the north Metro area, and north central and northeast Georgia, including Cobb, Bartow, Gilmer, Lumpkin, Habersham, Hall, Pickens, Rabun, Towns, Union and White Counties.
High winds and the weight of snow in particular in these areas has been a challenge as it causes trees to snap or lean into the right of way, bringing down lines or causing them to touch. Repairs have been time-intensive since outages are widespread and in some cases located in every corner of an EMC's service area. In addition, hundreds of trees have to be cleared and removed before restoration work begins.
To assist in the rate of restoration, hundreds of additional linemen and right-of-way crews from unaffected areas of Georgia have descended upon the damaged areas.  They will work until all power is restored.
Georgia EMC is the statewide trade association representing the state's 41 EMCs, Oglethorpe Power Corp., Georgia Transmission Corp. and Georgia System Operations Corp.  Collectively, Georgia's customer-owned EMCs provide electricity and related services to 4.4 million people, nearly half of Georgia's population, across 73 percent of the state's land area.
---
For the latest EMC outage numbers, visit Georgia EMC's outage map automatically updated every 15 minutes.