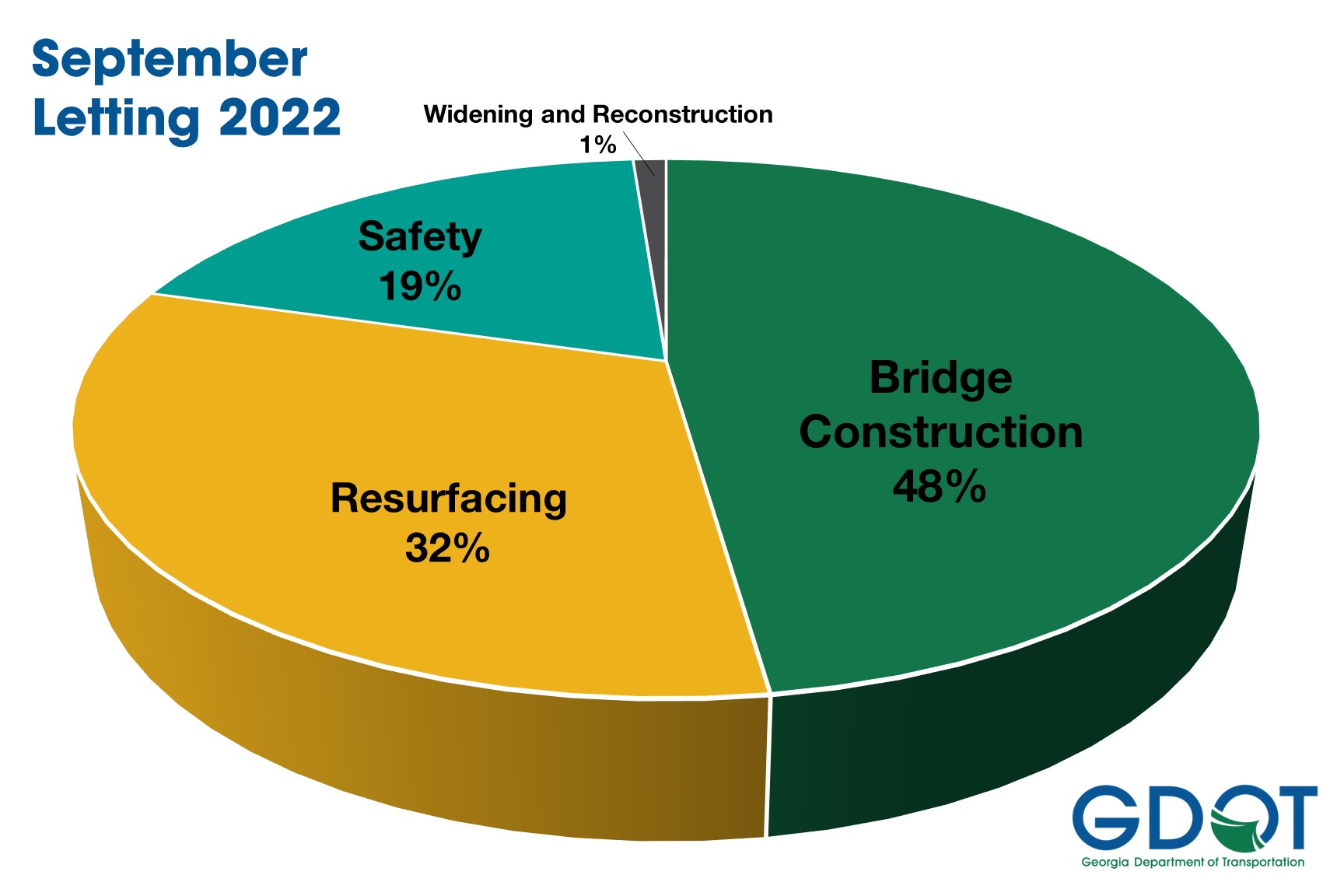 In September 2022, the Georgia Department of Transportation (Georgia DOT) awarded a total of 28 projects valued at approximately $165,743,822.
The largest single investment, worth approximately $18 million, was awarded to C.W. Matthews Contracting Company, Inc. This bridge construction project consists of 0.644 mile of construction of a bridge and approaches on US 27 ALT over Miller Road in Muscogee county. This contract, along with two other bridge construction contracts, represents 48 percent of the awarded funds.
The largest resurfacing contract is worth approximately $7 million. This project was awarded to Reames and Son Construction Company, Inc., and consists of 9.5 miles of milling, inlay and plant mix resurfacing on SR 7 from east of SR 7 BU to west of Country Club Drive in Lowndes county. This contract, along with five other resurfacing contracts represents 32 percent, or approximately $29 million, of the awarded funds.
Safety projects represent 19 percent, or approximately $18 million, of the awarded funds. These types of safety projects includes traffic signal and pavement marking upgrades, intersection improvements and the construction of a roundabout.
The remaining 1 percent is allotted for widening and reconstruction of 0.127 mile of turn lanes on US 19 from Flint River Road to Fayetteville Road in Clayton county. This project represents a $1 million investment.
A Design-Build contract was awarded to C.W. Matthews Contracting/Infrastructure Consulting and Engineering, LLC in the month of September worth approximately $46 million. This project will widen US 278, for approximately 1.36 miles, make improvements to the I-20 ramp intersections, and construct a new frontage road between US 278 and Old Mill Road. To learn more about this project, please visit: https://www.dot.ga.gov/GDOT/pages/DesignBuild.aspx
The September awards bring the total construction contracts for Fiscal Year 2023 to $421,118,370. This total includes TIA, Design-Bid-Build, Design-Build and locally administered projects. Fiscal Year 2023 began July 1, 2022.
Award Announcement list (includes rejected and or deferred projects). Bids for Design-Bid-Build projects were received on September 16, and contracts were awarded to the lowest qualified bidders on September 30.
Supplemental Award Announcement (includes previously deferred projects that have now been let).
Contractors and consultants, including Disadvantaged Business Enterprises (DBEs), registered small businesses and veteran-owned small businesses interested in bidding on projects or performing work must prequalify with Georgia DOT. To learn more, please visit https://www.dot.ga.gov/GDOT/Pages/DBE.aspx.