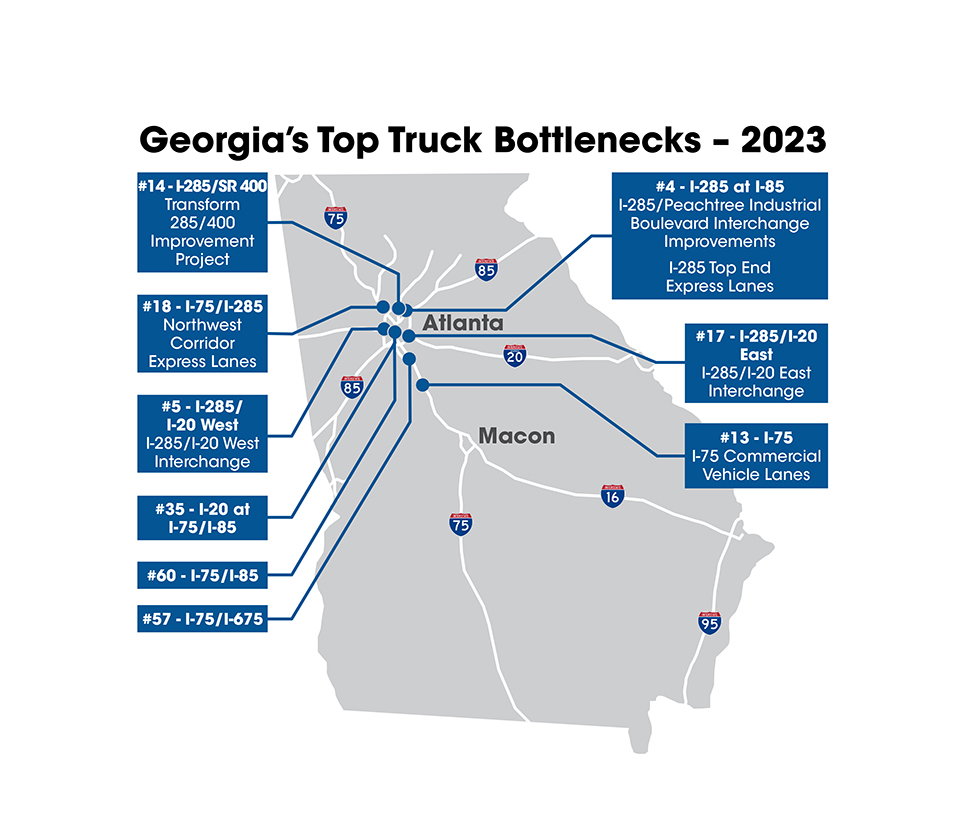 The American Transportation Research Institute (ATRI) recently released its 2023 Top Truck Bottleneck List, which cited several Atlanta-area corridors and interchanges. Each year, ATRI measures the level of truck-involved congestion at over 300 locations on the national highway system and develops a list of the top 100 bottlenecked areas. For several years and prior to the release of this year's report, the Georgia Department of Transportation (Georgia DOT) has continued to work systematically and efficiently to remedy these points of serious congestion to improve travel times, enhance safety, and support Georgia's growing economy.
A strategy that is proving effective is the joint effort of Georgia DOT and the Atlanta Regional Commission's (ARC) adoption of express lanes as a regional solution by managing congestion through pricing. The success of the Northwest Corridor Express Lanes offers a view into the future of Georgia's transportation network, which includes a connected system of modern and well-maintained express lanes in some of the most congested areas of the state. Future express lane projects are planned across the northern portion of I-285 and SR 400 in Metro Atlanta. Long-range plans for express lanes on I-20 both east and west of metro Atlanta also combat congestion and reduce bottlenecks.Additionally, the historic partnership between Georgia DOT, the Atlanta Transit Link Authority (the ATL), MARTA, and Fulton, DeKalb, and Cobb counties to accelerate transit infrastructure on the north side of I-285, where many of the most severe points of congestion in Georgia occur, will bolster transit capacity within the express lanes' corridor.
"Knowing there is not just one solution to improving mobility, Georgia DOT continues to take a holistic and equitable view, and be responsive to local transit plans, recognizing a multimodal solution is needed for Georgia as the state continues to see significant growth," said Georgia DOT Commissioner Russell R. McMurry, P.E.
Six Atlanta-area corridors were cited within the top 20 and two within the top five of ATRI's bottleneck list. Below are the corridors noted along with the corresponding Georgia DOT projects designed to provide relief:
No. 4 – I-285 at I-85 (North)

The I-285/Peachtree Industrial Boulevard Interchange Improvements began construction in 2022 and will combine the I-285 westbound exit ramps to Peachtree Industrial Boulevard north and south, while adjusting the horizontal curve of the north exit ramp to reduce the bottleneck from I-285. This project is currently under construction and scheduled to reach substantial completion this year.
The planned I-285 Top End Express Lanes will add two, barrier-separated express lanes in each direction of I-285 and a portion of SR 400, alongside the existing general purpose lanes, providing greater mobility choices for motorists and transit riders. The additional capacity and barrier-separation facilitates easier and safer movements for all types of vehicles.

No. 5 – I-20 at I-285 (West)

The I-285/I-20 West Interchange project offers an enhanced roadway design and will accommodate traffic volume growth with the addition of lanes along I-20 in Fulton and Cobb counties. Additional work includes construction of new connecting lanes and the modification or replacements of bridges along I-20 – aiding in improved travel conditions including a delay reduction by up to 36 percent.

No. 13 – I-75 in McDonough

The planned I-75 Commercial Vehicle Lanes project adds two, barrier-separated, northbound, truck-only lanes. The existing general purpose lanes are maintained for passenger vehicles, providing a physical separation to enhance safety. The 41-mile project is projected to reduce delay by 12 percent for commercial vehicles and 6 percent in general purpose lanes during peak periods.

No. 14 – I-285 at SR 400

Currently under construction, the Transform 285/400 Improvement Project is designed to help reduce traffic congestion and enhance safety in the area near the I-285/SR 400 Interchange in metro Atlanta. This priority project adds new flyover ramps, new connecting lanes, and other facilities to aid east-west travel along I-285 and north-south travel along SR 400. Motorists traveling through this corridor have already seen improvements due to the new ramps and lanes opening as they complete.

No. 17 – I-20 at I-285 (East)

The I-285/I-20 East Interchange project's objective is to improve traffic flow within the interchange and along I-20 east of the interchange, as well as to reduce the number of crashes within the project limits. The project improvements will address safety and congestion concerns within this important interchange. Construction is anticipated to start this year.

No. 18 – I-75 at I-285 (North)

The Northwest Corridor Express Lanes continue to achieve success after opening in 2018, having reduced rush hour by over an hour in both the morning and evening commutes. Travel speeds are 20 percent faster in the express lanes as compared to the general purpose lanes, and the general purpose lanes are up to 20 mph faster than they were before the express lanes opened.
"Among the corridors cited in the ATRI report, there are already several major projects planned or currently under construction to help improve traffic flow, enhance safety, and reduce congestion; many of which are part of the Major Mobility Investment Program (MMIP)," McMurry said. "Through these projects and others, Georgia DOT will work to ensure it addresses potential issues around freight and logistics, sustainability, economic development, and equity and access that could result from these bottlenecks."
---
Georgia DOT's mission is to deliver a transportation system focused on innovation, safety, sustainability, equity, and mobility, which will effectively boost Georgia's economy through greater access to opportunities for residents and businesses along these corridors while also improving community and personal health and financial stability.