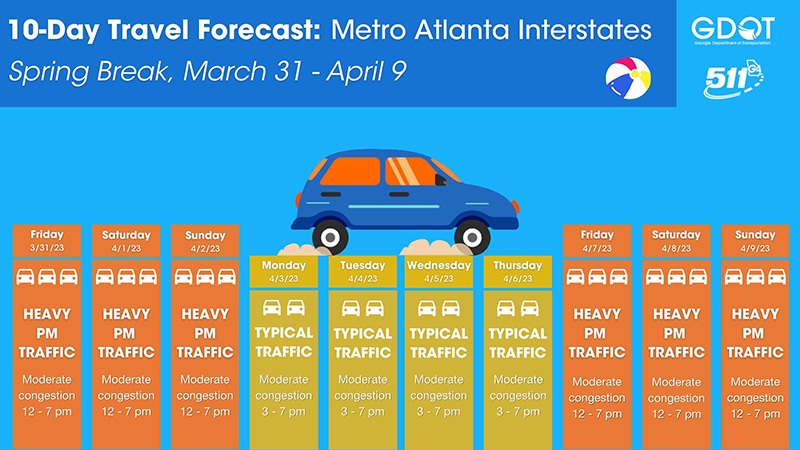 The Georgia Department of Transportation (Georgia DOT) anticipates an increase in traffic congestion in and around metro Atlanta during the K-12 schools' Spring Break period from Friday, March 31 through Sunday, April 9. Metro Atlanta motorists should plan for increased travel times around tourist attractions and popular areas for Spring Break activities which include Centennial Olympic Park, Georgia Aquarium, Six Flags, Zoo Atlanta and the Atlanta Botanical Gardens.
Below are the best and worst travel times for the 2023 Spring Break time period. The predictions are based on 2022 travel data:
Metro Atlanta Interstates:
Higher volumes of traffic are predicted on Friday, March 31 and over the weekend of April 7-9.
Typical volumes of traffic are expected Monday, April 3 through Thursday, April 6.
Metro Atlanta Surface Streets:
Heavy traffic is predicted on Friday, March 31, leading into the Spring Break travel period, with the worst times to travel being between 3 p.m. and 6 p.m.
Normal-to light traffic is expected throughout metro Atlanta on Saturday, April 1 through Sunday, April 9.
Low congestion and light traffic is predicted for April 8 and April 9 in South Atlanta.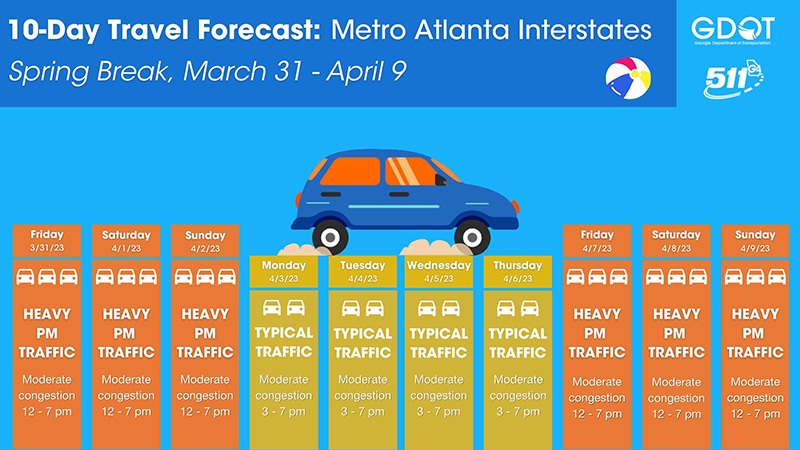 Below are the schedule changes for the Northwest Corridor and the South Metro Express Lanes for the Spring Break travel period. Changes to the schedule are carefully assessed and based off historical data and traffic trends. Changes are noted in green and blue text.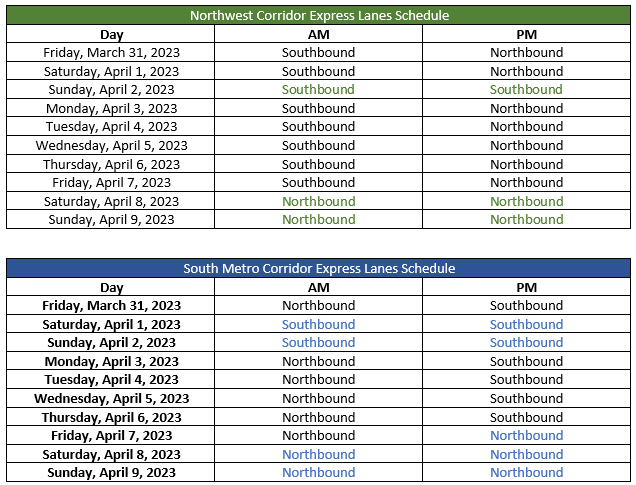 On major interstates outside of the metro Atlanta area, data has shown the following traffic trends during the Spring Break travel period:
I-20 eastbound congestion entering metro Atlanta; westbound congestion exiting the city towards Alabama.
I-75 is predicted to have heavy congestion southbound and northbound coming out of Atlanta in Stockbridge.
I-24 eastbound congestion in Northwest Georgia (near Chattanooga).
I-16 westbound congestion exiting Savannah and I-16 eastbound congestion entering Savannah.
For up-to-date information about travel conditions on Georgia's interstates and state routes, call 511 or visit www.511ga.org before heading out. 511 is a free service that provides real-time statewide information on Georgia's interstates and state routes, including traffic conditions, incidents, lane closures and delays due to inclement weather 24 hours a day, seven days a week. Callers can also transfer to operators to request HERO assistance in metro Atlanta or CHAMP service on highways in other regions of the state.