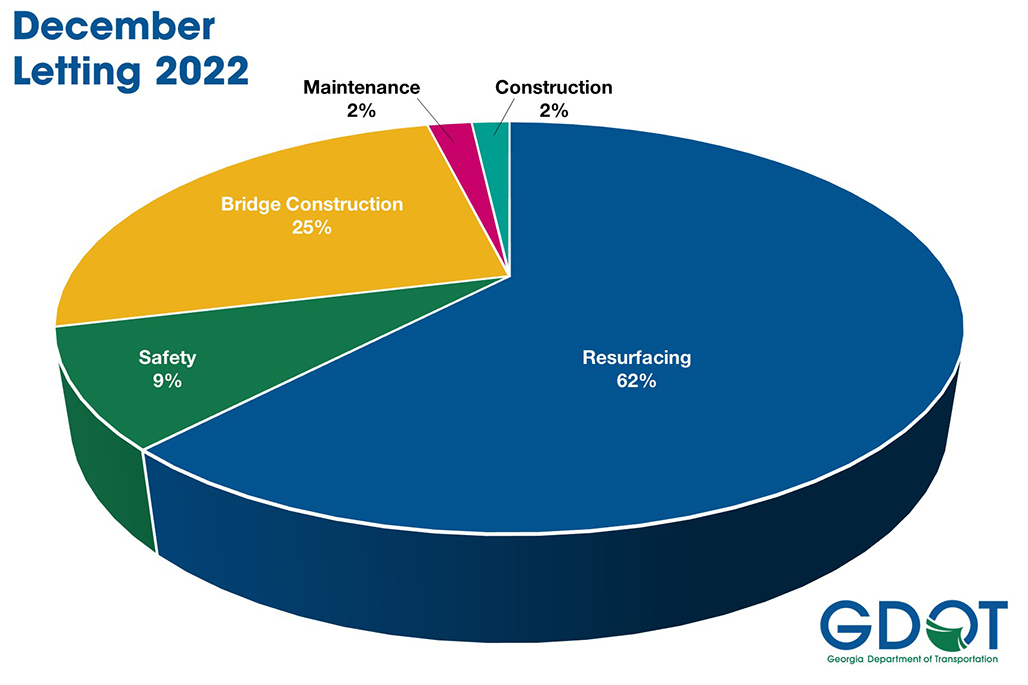 At the January 2023 State Transportation Board Meeting, the Georgia Department of Transportation (Georgia DOT) announced it awarded 31 projects valued at approximately $150,336,989 in December 2022.
The largest single investment, worth approximately $16 million, was awarded to E.R. Snell Contractor, Inc. This resurfacing project consists of 10.87 miles of milling and plant mix resurfacing on US 20/State Route (SR) 402 from west of Columbia Drive to the Rockdale County Line in DeKalb county. This contract, along with 15 other resurfacing contracts, represents 62 percent of the awarded funds.
The largest bridge construction contract is worth approximately $8 million. This project was awarded to McCoy Grading, Inc and consists of 0.92 miles of construction of a bridge and approaches on SR 16 over Flint River in Spalding County. This contract, along with 6 other bridge construction contracts, represents 25 percent of the awarded funds.
Five safety projects represent 9 percent, or approximately $11 million, of the awarded funds. These safety projects consist of signing and pavement marking upgrades at locations across the state.
Two percent of the awarded funds were for a Transportation Investment Act (TIA) project consisting of 0.78 mile of construction of a new access road on I-20/SR 402 from a cul-de-sac to west of Cadley Road in Warren county.
The remaining 2 percent of the awarded funds were allotted for two maintenance projects in Clayton, Fulton and Habersham counties. These projects represents approximately a $2 million investment and allowed for bridge rehabilitation and slope repair.
The December awards bring the total construction contracts for Fiscal Year 2023 to $936.5 million. This total includes TIA, Design-Bid-Build and locally administered projects. Fiscal Year 2023 began July 1, 2022.
Award Announcement list (includes rejected and or deferred projects). Bids for Design-Bid-Build projects were received on December 16, and contracts were awarded to the lowest qualified bidders on December 30.
ga dot construction awards

Supplemental Award Announcement (includes previously deferred projects that have now
been let).
ga dot construction awards supplemental