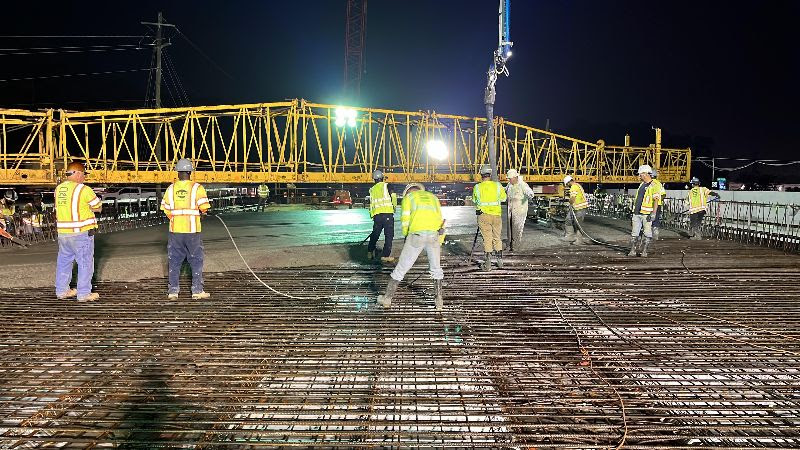 The Georgia Department of Transportation (Georgia DOT) has announced a 47-hour closure and detour of State Route (SR) 307 (Dean Forest Road) at Interstate 16. The closure is necessary to finalize the Diverging Diamond Interchange (DDI) project that will convert the existing traditional diamond layout to a DDI to improve traffic flow and safety.

The Dean Forest Road bridge closure is scheduled to begin Friday, November 10, at 9 p.m. and end on Sunday, November 12, at 8 p.m. Motorists will utilize Chatham Parkway and Pooler Parkway Exits to detour.
Lane closures related to I-16 widening from the separate I-16/I-95 Improvement Projects will be restricted during this time.
The purpose of the 47-hour closure is to install new traffic signals, permanent signage and pavement markings for the final traffic pattern. Following this closure, the new diverging diamond interchange will be opened to traffic with the exception of the right-hand southbound lane of SR 307 across I-16, which will open following the completion of the shared use path anticipated in December 2023.
"Citizens have seen the progress we've made since construction began in late 2021 and we're excited to be in the home stretch of this major improvement," said Trevor Brown, Georgia DOT project principal. "With safety and mobility as two pillars of the GDOT mission, the opening of this new interchange with reduced conflict points to enhance safety and more efficient travel via dedicated left turns, will be key for the community."
Motorists can find additional information the closure and detour here: https://0013727-sr307-deanforestroad-gdot.hub.arcgis.com/.
This project is replacing the existing interchange with a DDI with three lanes, providing extra-width lanes to accommodate commercial vehicle traffic, and features a shared-use path and sidewalk.
Advisory: Exact time may change due to weather conditions. There may be intermittent traffic pacing and lane and ramp closures that occur within the work zone in addition to this notice. Motorists are advised to expect delays, exercise caution, reduce their speed while traveling through work zones, stay alert, and watch for workers. Before heading out, get real-time information on work status and traffic conditions. Call 511, visit 511ga.org, or download the Georgia 511 app.