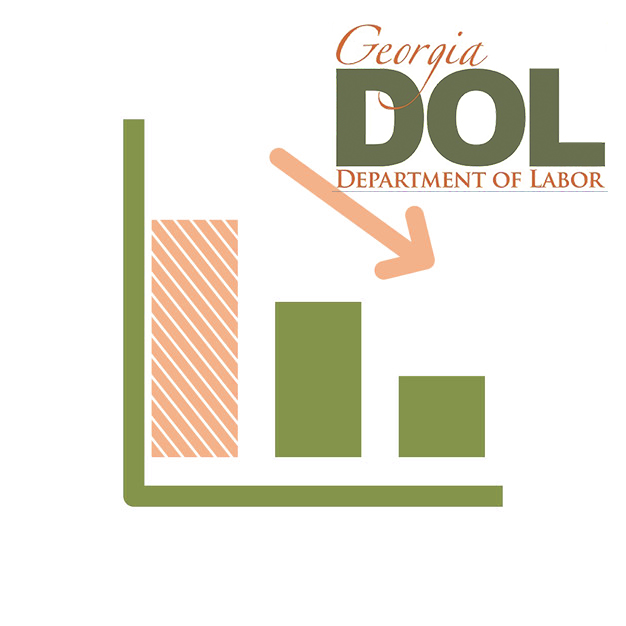 The Georgia Department of Labor (GDOL) announced today that Georgia's unemployment rate dropped three-tenths of a percentage point to 3.2 percent in September, an all-time low for Georgia dipping below the rate of 3.3 percent in January 2020. The number of employed rose above 5 million for the first time since the beginning of the pandemic and the number of unemployed was reported at the lowest level since June 2001 (161,786).

"This is excellent progress for Georgia, and it shows that the state's economy is rapidly recovering and GDOL's programs, along with other state policies, are working to get people back to work," said Commissioner Mark Butler.
Although the number of employed rose by 7,722 in September, the labor force dropped over 6,000 over the month with the number of unemployed Georgians dropping almost 14,000. The labor force is down 37,000 since the beginning of the pandemic.
"Today, we have 193,739 jobs posted on Employ Georgia, resulting in a minimum of 308,106 unfilled positions," said Commissioner Mark Butler. "This is almost twice the number of available jobs than we have people currently looking for employment. This is the main factor effecting job growth as employers across the state continue to struggle to fill vacant positions."
Employers with over one thousand job postings included Amazon with 3,500, Piedmont Health Care with 3,000, Advantage Sales and Marketing with 2,600, Wellstar Health System with 2,200, Beech Valley Solutions with 1,700, Home Depot with 1,500, Walmart with 1,500, and Anthem Blue Cross with 1,300 positions. Market salaries range from $23,000 to $102,000 with an average salary of $42,000.
Jobs were up 14,300 (1.3%) over the month, and up 194,400 (4.4%) over the year to 4,578,200. Since April 2020, 521,000 jobs (86%) of the 609,500 jobs lost in March 2020 and April 2020 have been gained back.
The sectors with the most over-the-month job gains included Retail Trade, 5,900, Wholesale Trade, 2,100, Transportation and Warehousing, 1,800, Professional, Scientific, and Technical Services, 1,600, Accommodation and Food Services, 1,100, and Specialty Trade Contractors, 1,100. Reaching all-time highs in their sectors, there were 254,500 jobs reported in the Transportation and Warehousing sector, 749,800 jobs in Professional and Business Services, and 296,800 jobs in the Professional, Scientific & Technical sector.
When considering sectors hit hardest by the pandemic, Administrative and Support Services is up 19,000, Transportation and Warehousing is up 16,000, and Retail Trade is up 2,000, all recouping the jobs lost and adding to their respective totals. At the same time, Accommodation and Food Services is still down 52,000, Local Government is down 15,000, Religious, Grants, Civic, and Professional Services still lacks 11,000, and Arts, Entertainment, and Recreation is down 10,000.
"Our teams are proactively reaching out to unemployed jobseekers around the state to offer support services with finding a job, along with staff doing specialized recruitments," said Commissioner Butler. "However, the response has been muted with some responding that they are holding out for action from Congress for possible new assistance programs."
Initial claims were down 19,037 (-40%) from August to 28,835 in September.  Initial claims were down 172,955 (-86%) over the year.
To take advantage of recruitment tools available to manage an employee talent search at no cost, employers can reach out to the Georgia Department of Labor for support and also access Employ Georgia to post job openings, search applicants, and invite potential candidates to apply. For more information on jobs and current labor force data, visit Georgia LaborMarket Explorer to view a comprehensive report.