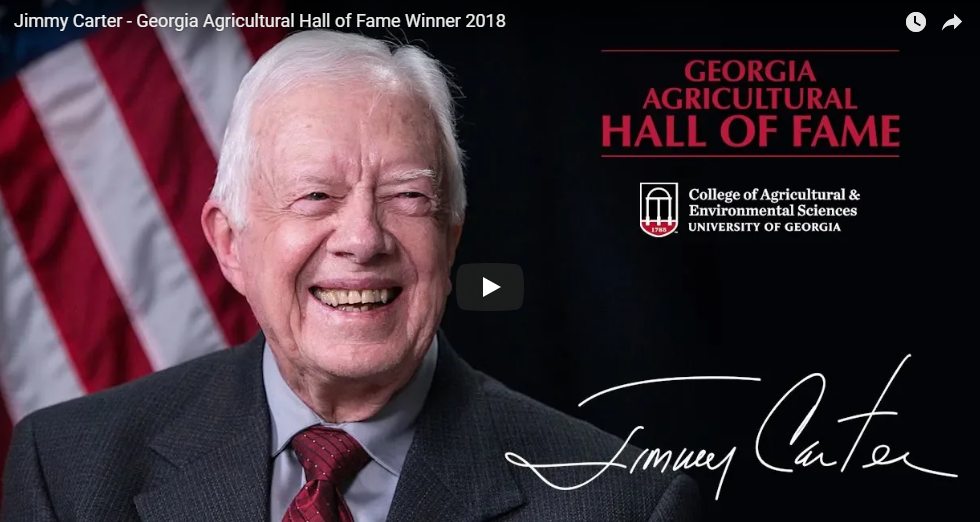 His list of accomplishments is plentiful and includes an American presidency, but now former President Jimmy Carter can add 'Georgia Agriculture Hall of Famer' to his resume.
Carter is the first president of the United States to be inducted into the Agriculture Hall of Fame and he was recognized earlier this month for his tenure as a peanut farmer, among other things.
After graduating from the U.S. Naval Academy in 1946, Carter served as a submariner in the U.S. Navy's Atlantic and Pacific fleets. In 1953, he returned to Georgia with his wife, Rosalynn, and their children to run the Carter family peanut farm and warehouse in Plains. In 1962, he was elected to the Georgia Senate, and in 1971, became Georgia's 76th governor.
The Hall of Fame, which is at the University of Georgia in Athens, was created in 1972 to recognize individuals who made unusual and extraordinary contributions to agriculture and agribusiness, specifically in Georgia. Other inductees include former Agriculture Commissioner Tommy Irvin, D.W. Brooks, who founded Gold Kist, former UGA Vice President J.W. Fanning, and others.
When he accepted the award at his induction, Carter said that agriculture has been 'the highlight' of his life. Carter, the Hall of Fame organization said, is responsible for highlight rural Georgia when he ran for statewide office and again when he became president.
The University of Georgia College of Agricultural and Environmental Sciences Alumni Association is responsible for maintaining the Hall of Fame.