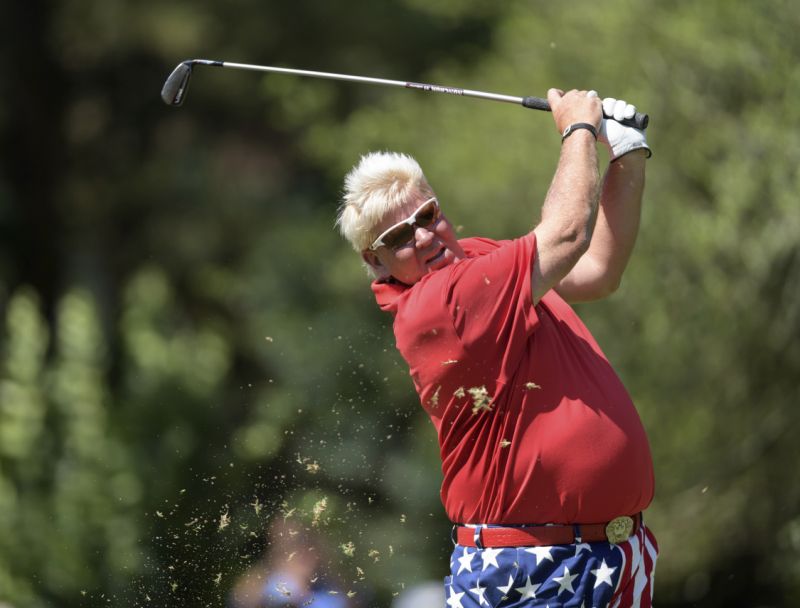 The views of the author are not necessarily the views of AllOnGeorgia.

---
Well, here we go again.
John Daly is involved in yet another controversy.
Imagine that.
Not surprised, are you? Me neither.
This one, though, isn't what you might think.
It doesn't involve alcohol, cigarettes, gambling or a meltdown and a big number on the scorecard.
Nope, it's nothing of the like.
It involves a golf cart. And no, he didn't wreck it, drive it into a lake or fail to return it to the proper place following his round.
Big John simply would like to use one to play in this week's U.S. Senior Open.
I know what some of you might be thinking. And, that's here we go again.
We've been down this road before with Casey Martin several years back. Martin wanted to use a golf cart to play in regular PGA Tour events because of a birth defect in his right leg that made walking difficult. Otherwise, he could play golf and could play pretty well, too.
Of course, those who think walking is a major component of competitive golf – including Jack Nicklaus and the late Arnold Palmer – thought he shouldn't be allowed to ride in a tour event when others are walking as a fundamental part of the game and the competition at hand.
You probably know by now that Martin sued the PGA Tour and won his case, taking the fight all the way to the Supreme Court which ruled in his favor based on the American with Disabilities Act.
That was back in 2001. Now, it's 2018 and Big John wants to ride, too.
Some think it's only because Daly is overweight and he's looking for a way to make playing easier on his heavy frame.
Daly argues this isn't the case at all. He is suffering from osteoarthritis in his right knee which makes it difficult to walk 18 holes.
Daly says wants to walk and wishes he could. He says he thinks he plays better golf when he does, but his knee condition currently makes it tough to walk 18 holes, much less 72 holes over four days.
"It's tough enough being in a golf cart trying to play,'' he said. "But at least I can swing. It doesn't swell up as bad because I'm not walking the whole course.
"I'm playing great golf. It just sucks. Anybody that's had osteoarthritis knows. … When you're walking and (the knee) pops, then the swelling begins and it just doesn't end. And then it just gets so sore I can't load on it.''
Daly and his lawyers believe he is eligible for a cart under the ADA. Following proper procedure, he filed the paperwork with the United States Golf Association, which runs the U.S. Senior Open, to request a cart. His petition included extensive medical information, he says.
But the USGA reviewed his request and said his submission did not support the waiver of the walking condition.
Daly announced on Twitter early Monday that he was being forced to withdraw from this week's tournament due to the USGA denying his cart request.
The USGA released a statement saying it gave the golfer the opportunity to supply additional information to support his request, but he did not and chose to withdraw instead.
Daly later took to Twitter to say that never happened, and if it had, he would have supplied the additional information.
So now, this is a he said-she said kind of thing. Who knows which side is telling the truth in that regard.
My guess would be that the USGA did somehow inform Daly that he could resubmit his request, and that either just wasn't made clear to him or that Daly simply got mad that he was initially denied, thought that the ruling was insanely crazy and figured to heck with the USGA and its silly self.
Here's the thing, though. I think maybe the USGA should have made sure again that he knew he could submit a second request that further supports his case for a cart before accepting his withdrawal from the event all together. Then, if he still chose not to take that step, so be it.
And maybe, it still wouldn't have been good enough for them to change their opinion. That I don't know, and Daly won't ever, either.
I do know this, though. It seems this is just another case of the USGA being full of itself, despite all the good it actually does for the game.
A past incident involving the aforementioned Martin and the USGA never got much attention. I didn't hear of it until searching the internet earlier today, at least.
Back in 2013, Martin, who is now coaching at Oregon, went to the U.S. Junior Amateur, another USGA championship, in Oceanside, Calif., where he expected to ride in a cart to tour the course and follow recruits as they competed. He had already cleared his plan with the tournament director before arriving.
Everything was set, or so he thought, but he thought wrong.
He hadn't been on the course long when he was stopped and told that the USGA heard of the cart and said he couldn't use it. He was a spectator at this event, they said, and spectators aren't allowed to use carts at their national championships.
He pleaded his case, but the USGA wouldn't budge. The Supreme Court said years ago he could use a cart, but here the USGA was now saying he couldn't.
"It was brutal, the worst experience of my golfing career," Martin said in a published report about the incident. "The long story short: I'm living my life, doing my job, and it sucked to have that taken away. I felt like I got on the bus and they ordered me to the back or even to get off. It felt horrible."
Martin asked if a tournament official or someone could ride him around. The tournament officials from the Southern California Golf Association said all it could do under the USGA guidelines was to take him to a point and drop him off. They couldn't cart him around.
If I'm not mistaken, Martin declined that offer and went on about his business.
Stubborness on his part? Probably so.
Stubborness by the USGA? Most definitely.
And, it seems the organization is simply doing the same here with Daly, especially considering that he did indeed follow proper procedure and appears to have filed fairly extensive information that included all medical records related to the knee injury, so he says.
Just so you know, fellow participant Scott Verplank has been granted permission to ride as he battles diabetes.
Daly rode last week at the American Family Insurance Championship on the Champions Tour and finished tied for seventh.
Daly says he doesn't know what's ahead for him. Since he isn't competing this week, he now plans to see an orthopedic surgeon Friday and is expected to have arthroscopic surgery done to clean out his knee. The recovery time is only a matter of days.
Hopefully, Daly will be able to return to competitive golf soon, and maybe he'll be able to walk the course again in due time.
But for now, the U.S. Senior Open will go on without one of the biggest names in the field. And, the USGA has no one to blame but itself for that.
Give the organization credit, though, I suppose. It certainly doesn't need another controversy, not after it fouled up the U.S. Open just two weeks ago at Shinnecock Hills.
This controversy involving Daly could have been avoided by simply letting him ride.
But hey, the USGA is at least standing up for what it believes in, even if it creates another controversy that it certainly could do without at present time.