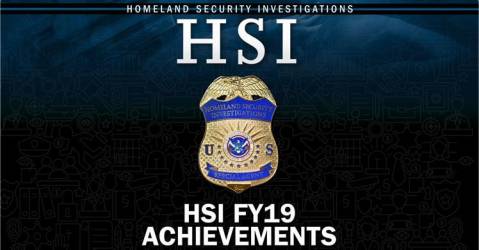 During fiscal year 2019 (FY19), U.S. Immigration and Customs Enforcement's (ICE) Homeland Security Investigations (HSI) effectively combated transnational criminal threats against the United States resulting in a record-breaking number of criminal arrests. HSI is the principal investigative component of the Department of Homeland Security with more than 9,800 employees, including over 6,700 special agents and 700 intelligence analysts, assigned to more than 210 cities throughout the U.S. as well as 78 offices in 52 countries. HSI investigates a multitude of crimes including: financial crimes, bulk cash smuggling, cybercrimes, exploitation of children and child sex tourism, weapons smuggling and export enforcement, trade crimes such as commercial fraud and intellectual property theft, human smuggling and trafficking, narcotics smuggling and trafficking, identity and benefit fraud, human rights violations, transnational gang activity, counterterrorism and visa security.

HSI's investigative strategies resulted in a record-high 37,547 criminal arrests, almost a 10 percent increase from FY18, as well as the seizure of more than $775 million in currency and assets from criminal proceeds.
---
"HSI uses aggressive investigative strategies to disrupt and dismantle transnational criminal organizations that engage in cross-border crime," said Acting HSI Executive Associate Director Alysa Erichs.  "HSI special agents worked tirelessly to address threats posed by criminal networks to protect national security and public safety in the United States and around the globe."
HSI arrested 5,750 criminals associated with human smuggling investigations in FY19, a 41 percent increase from FY18, due in part to the use of Rapid DNA testing technology to detect fraudulent families at the Southwest border. During FY19, over 400 HSI personnel deployed to the southern border to protect children from being smuggled into the United States through fraudulent family units, often tied to larger transnational criminal syndicates.
In FY19, HSI arrested 2,197 criminals associated with human trafficking, a 38 percent increase from FY18, as well as identified and/or assisted 428 victims of human trafficking in FY19, a 39 percent increase from the previous year. HSI uses a victim-centered approach in its trafficking investigations, where equal value is placed on both the identification and stabilization of victims and prosecution of the traffickers. HSI also developed the Strategic Trafficking Outreach Program (S.T.O.P.) to educate and raise awareness as well as how to report instances of suspected trafficking.
HSI saw a record-breaking year in narcotics enforcement by leveraging partnerships and using a variety of task forces, including its Border Enforcement Security Taskforce (BEST). HSI seized more than 12,450 lbs. of opioids in FY19 – a record-breaking amount – exceeding FY18 seizures by more than 2,500 lbs. HSI also seized more than 3,600 lbs. of fentanyl and made more than 1,900 fentanyl-related arrests in FY19, which are both substantially higher than FY18 figures. HSI also seized more than 145,000 lbs. of methamphetamine in FY19.
Identity and benefit fraud pose a severe threat to national security. HSI leads 36 Document and Benefit Fraud Task Forces (DBFTF) across the country to combat this fraudulent activity. HSI made 2,198 arrests tied to identity and benefit fraud in FY19, a nearly 75 percent increase from FY18.
HSI also continued its fight against child predators and transnational gangs in FY19.  In FY19, HSI arrested 3,957 child predators as well as rescued or identified 1,069 victims.  HSI also made 3,886 criminal gang arrests, including 337 criminal arrests of MS-13 gang members during the same timeframe.
HSI Noteworthy Cases
Financial Crimes
Narcotics Enforcement
Counterproliferation Investigations
Child Exploitation