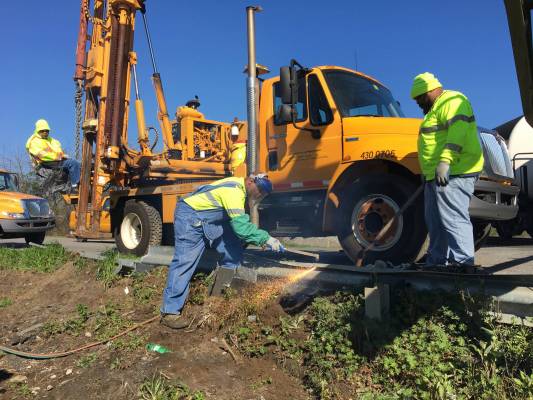 By Penny Brooks – GDOT
Georgia DOT's West Central Region has 278 miles of interstate and 3,322 miles of state route. Many hundreds of those miles are lined with guardrail, the protective barrier designed and installed to prevent vehicles from running off the roadway or colliding with obstacles in emergency situations. Every year, guardrail does its job and bears the brunt of vehicle collisions, but damaged guardrail must be quickly and efficiently repaired or replaced.
In Fiscal Year (FY) 2020, so far, the West Central Region has already handled more than 600 reports of guardrail damage, with just those cases resulting in more than half a million dollars in expenses. The job of handling cases of damaged guardrail may not seem like a large one in the big picture of GDOT's budget, but when it's a matter of ensuring high standards of safety along Georgia's roadways—while also being good stewards of state maintenance funding—every little bit helps.
Recent innovative changes to how this region handles guardrail repair and replacement have not only made the procedures more streamlined but have also resulted in a dramatic increase in payment collections from the public, saving the department – and taxpayers – money.
With damaged guardrail, there are several determinations to be made and tasks to be performed. The guardrail must be thoroughly inspected and recommended for repair or replacement. If damage was caused by a motorist in a passenger vehicle or the driver of a commercial truck or tractor trailer – that person or their company, as well as their insurance agency, must be contacted for compensation. Depending on the severity of the damage and its location, either the GDOT maintenance team is scheduled to perform the work or a contractor must be hired to handle it.
Prior to FY 2019, the tasks associated with damaged guardrail were handled by a handful of employees among a few departments within the West Central region. For example, the maintenance department handled the reporting and assessment, while the safety office was responsible for cost recovery. Having the job spread out among staff in different departments made the process cumbersome and it often took time for communication to flow back and forth. In 2019, region administrators decided to streamline the process and have one employee within the maintenance department coordinate all steps, from reporting to accounting.
Today that job is performed by Jenifer Shepard, Maintenance Manager System clerk. "It takes many hours per week, contacting maintenance foremen to inspect guardrail, reaching out to our collections agency, compiling documentation and recording statistics. The process goes much faster, though, because instead of a number of people having to coordinate efforts, I can take care of all the moving parts myself."
It's also demonstrated to be beneficial budget-wise. In FY 2018, West Central collected $872,321 in guardrail compensation payments. In FY 2019, under the new system, the region received $1,075,567, increasing collections by 23 percent. FY 2020 has already brought in $556,063 in the first six months and is on target for over $1 million by fiscal year end.
"By realigning the process so that a single person handles all the moving parts," says Wesley Kennedy, maintenance engineer, "we're not waiting for multiple busy employees to coordinate among themselves. The results speak for themselves."