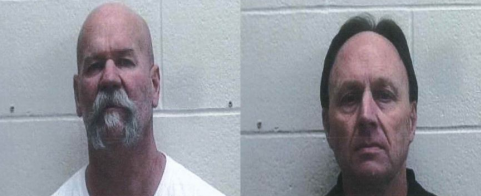 John Michael "Mike" Gowder and James Heaton have been convicted after a two-week jury trial on 102 counts related to illegally prescribing and obtaining more than 15,000 doses of prescription pain medications outside the usual course of professional practice and for no legitimate medical purpose.
In addition, Heaton was convicted of 27 counts of issuing prescriptions to two female patients outside the usual course of professional medical practice and for no legitimate medical purpose.
"When doctors prescribe opioids outside of the applicable rules, they are nothing but drug traffickers with a medical degree," said U.S. Attorney Byung J. "BJay" Pak.  "Therefore, we will accordingly treat them as such."
Robert J. Murphy, the Special Agent in Charge of the DEA Atlanta Division stated, "Pharmaceutical products that are distributed for non-medical reasons can be just as deadly as illicit drugs.  The defendants in this case distributed vast quantities of pharmaceutical products and had ill-will and total disregard for human life. This conviction should serve as a reminder to all drug traffickers, including those with medical degrees, that DEA and its law enforcement partners will expend the necessary resources to disrupt and destroy those who distribute poison throughout our communities. This is a perfect example of the success that can be accomplished when federal, state and local resources are combined."
"This is a very substantial victory in the battle against opioid use in our communities.  It goes to show what can be accomplished when the DEA and local law enforcement work together. Drugs know no boundaries including state lines.  I am very grateful for our relationship with Union County and the DEA," said Derrick Palmer, Sheriff, Cherokee County, North Carolina.
According to U.S. Attorney Pak, the charges and other information presented in court: From 2011 to 2016 Mike Gowder was the Chief Operating Officer and later Chief Executive Officer of Union General Hospital in Blairsville, and Dr. James Heaton operated a family practice clinic in Blairsville, Georgia, and worked as the Medical Director of the Nursing Home of Union General Hospital.
During that time, Dr. Heaton illegally prescribed increasing quantities of hydrocodone and oxycodone to Mike Gowder, knowing that the prescriptions were issued outside the usual course of professional practice and that the pills obtained with the prescriptions had no legitimate medical purpose. Dr. Heaton violated numerous standards of medical practice by prescribing the pills to Mike Gowder without adequately documenting the medical need for the prescriptions in his patient file and without monitoring patient abuse of the pills he obtained.  During the three and half years in which Dr. Heaton prescribed more than 15,000 hydrocodone and oxycodone pills to Mike Gowder, Dr. Heaton only six of the prescriptions were recorded in his patient file for Mike Gowder.
Starting in 2012, Mike Gowder obtained oxycodone by fraud, subterfuge, and deception by filling the illegal prescriptions that Dr. Heaton issued for oxycodone at different pharmacies in Georgia, Tennessee, and North Carolina in an effort to conceal the large numbers of pills that Dr. Heaton was prescribing to him.
Between January 5, 2012, and June 16, 2015, Dr. Heaton wrote at least 95 illegal prescriptions for hydrocodone and oxycodone to Mike Gowder. In addition to filling the prescriptions at pharmacies in Georgia, Mike Gowder often travelled to North Carolina and Tennessee to fill multiple prescriptions a month at pharmacies in those states. On multiple occasions, Dr. Heaton wrote two prescriptions for oxycodone for Mike Gowder on the same day. On other occasions, Mike Gowder would travel to North Carolina to fill one prescription and Tennessee to fill the second prescription to conceal the fact that multiple prescriptions were written to him on the same day.
In addition, Dr. James Heaton issued prescriptions hydrocodone, oxycodone, and methadone to two female patients outside the usual course of professional practice and without a legitimate medical purpose.
Oxycodone, hydrocodone, and methadone are powerful pain medications that are listed as controlled substances under federal law because each has a high potential for psychological and physical abuse and dependence. Oxycodone, which may be combined with acetaminophen, is sold generically under brand names including Percocet, Endocet, Oxycontin, and Roxicodone. Hydrocodone is sold generically or under brand names including Lortab, Vicodin, and Norco. Methadone is an opioid pain medication that is also used in opioid dependence therapy.
On March 15, 2019, Dr. George David Gowder pleaded guilty to a single count of the superseding indictment in this case for illegal dispensing medications outside the scope of professional practice and without a legitimate medical purpose.  Sentencings for John Michael "Mike" Gowder, 61, of Nashville, Tennessee, and James Heaton, 63, of Blairsville, Georgia, have not yet been scheduled.
The Drug Enforcement Administration, the Union County (Georgia) Sheriff's Office, Cherokee County (North Carolina) Sheriff's Office, Georgia Drugs and Narcotics Agency, and Zell Miller Mountain Parkway Drug Task Force are investigating this case.
Assistant U.S. Attorneys William McKinnon and Laurel R. Boatright are prosecuting the case.
This case was brought as part of Operation SCOPE, Strategically Combatting Opioids through Prosecution and Enforcement.  SCOPE is our initiative combining our efforts (criminal, civil, and educational) with those of our law enforcement partners to create one unified front in the battle against the opioid/heroin epidemic.  One important aspect of Operation SCOPE is to prosecute those who are illegally prescribing, or distributing, painkillers.