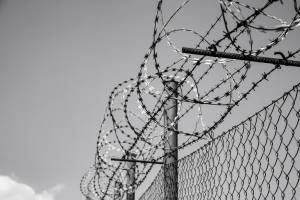 A Mexican national with prior convictions for illegal reentry into the United States and transporting illegal aliens, and who injured an officer during his 2019 arrest, was sentenced to 52 months in prison for illegal reentry and violation of supervised release, announced Charles "Charlie" Peeler, the U.S. Attorney for the Middle District of Georgia.
Pedro Santos-Garcia, 42, of Mexico, was sentenced by U.S. District Judge Louis Sands on Thursday, February 20, 2020 after Santos-Garcia entered a guilty plea on July 30, 2019 to one count of illegal reentry. The indictment shows the defendant was found unlawfully in the United States in Cook County, Georgia, on or about April 29, 2019, after previously being deported and removed from the United States on or about April 19, 2017, April 7, 2011, February 20, 2009, June 5, 2008, September 12, 2006, June 12, 2006, June 12, 2003 and December 13, 2002. Santos-Garcia was sentenced on both the new illegal reentry charge as well as a revocation for violation of his supervised release from a prior federal felony conviction for illegal reentry. There is no parole in the federal system.
Santos-Garcia was found to have violated his supervised release on April 29, 2019, when deputies with the Cook County Sheriff's Office in Adel, Georgia arrested the defendant for driving and obstruction offenses. At the time of the defendant's arrest, he gave officers false identifying data, pushed the arresting officer's hands away, fled across a multi-lane interstate highway, crossed multiple lanes of traffic, jumped the concrete median and crossed to the other side of the interstate. Deputies pursued the defendant across the highway, putting themselves at substantial risk of death or serious physical injury. When apprehended, the defendant also took a deputy's taser. During the struggle, one deputy suffered a broken wrist. Immigration officials investigated and determined the defendant, a citizen of Mexico, was in the United States illegally, had a final order of removal, and had numerous prior removals. On May 3, 2019, Cook County officials transferred the defendant to the custody of immigration officials.
"I want to thank our law enforcement partners across the Middle District of Georgia who put their lives on the line protecting us every day. I want to especially commend the Cook County Sheriff's Office for their service and bravery in this case," said U.S. Attorney Peeler. "This case illustrates that there is good reason to enforce immigration laws in the United States, and it is especially important to enforce our immigration laws when an offender is committing other crimes while in the United States illegally. This is about protecting the public, and dangerous criminals, illegal or legal, must be prevented from harming our communities."
"This sentence should serve as a reminder that there are significant consequences for those who choose to reenter the country illegally, after being ordered removed," said Thomas P. Giles, acting Field Office Director for U.S. Immigration and Customs Enforcement (ICE) and Enforcement Removal Operations (ERO) Atlanta. "ERO officers will continue to pursue criminal aliens seeking to circumvent U.S. laws."
This case was investigated by the Cook County Sheriff's Office and U.S. Immigration and Customs Enforcement, Enforcement and Removal Operations. Assistant U.S. Attorney Amy Helmick prosecuted the case for the Government.