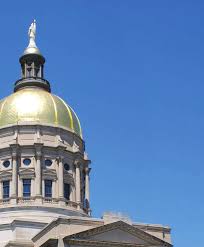 The following article is an opinion piece that reflects the views of only the authors and not those of AllOnGeorgia.
---
In total, Georgians owe more than $53 billion in outstanding student loans. And with the price of college rising, student debt could continue to surge. This is a concerning matter that is not unique to Georgia. However, unlike most states, Georgia has an obscure law that hinders graduates' ability to repay their debts and keep a job — thereby exacerbating the ongoing student debt crisis.
Around 30 percent of Georgians must obtain a state license in order to work. Yet, Georgia laws enacted in 1998 and 2001 weaponized these licensing regimes by authorizing the state to suspend the occupational licenses of Georgians who fall behind on their student loan repayments. This policy, while well-intentioned, has had devastating effects on Georgia residents. The harm that this policy causes has prompted numerous state and national organizations — ranging from the R Street Institute and FreedomWorks to Georgia Watch, the Georgia chapter of the National Federal of Independent Business, and others — to publicly criticize the law.
Fortunately, two state bills — HB 42 and SB 92 — would repeal this power. They are gaining momentum in the state Legislature, and for good reason.
The current law runs counter to one of its primary objectives: ensuring debt collection. When borrowers' occupational licenses are suspended, they are prohibited from working in their professions. Without a job, it can be nearly impossible to satisfy one's loan obligations. Thus, rather than helping borrowers repay their loans, the policy makes it more difficult for them to do so.
Aside from the obvious disservice to borrowers, the secondary effects of this government-induced joblessness can have widespread negative implications. According to a recent survey, most Americans cannot pay their bills if they miss two paychecks in a row. When their licenses are suspended, borrowers can remain unemployed indefinitely — missing paycheck after paycheck for the foreseeable future. Without a means to make a living, former licensees can then easily fall into poverty, which adversely affects them and their families. After all, job security can mean the difference between providing loved ones with shelter and putting food on the table, and not being able to do so.
While the licensure suspension policy harms those in default and their families, it can also increase the taxpayer burden on two fronts. Without a job, most borrowers cannot repay their student loans, meaning that taxpayers will have to pick up the tab. And once unemployed, borrowers become more likely to apply for government aid — which is also funded by taxpayers. As a result, the current law is not fair to taxpaying Georgians.
Predictably, the law also regularly fails to secure debt repayment. The average federal student-loan default rate in Georgia is higher than it is in states that are not authorized to suspend defaulters' licenses. This suggests that Georgia's policy does not reliably deter defaults. And even if it did, the authority to suspend licenses is simply unnecessary because other, less harmful debt-collection options exist. For instance, the government can garnish wages, seize tax returns and even assess liens against property. While these options can create difficult situations themselves, at least they don't deprive borrowers of their ability to repay debts or provide for their families.
The bottom line is that Georgia shouldn't unnecessarily take away people's jobs. Rather, the Legislature should focus on pro-job legislation to ensure that Georgia truly is the best place to do business. A great place to start would be by giving HB 42 and SB 92 serious consideration.
Brandon Beach is the State Senator for Georgia's 21st District. You can follow him on Twitter at @BeachforGA.
Marc Hyden is the State Government Affairs Director at the R Street Institute, and he is a longtime Georgia resident. You can follow him on Twitter at @marc_hyden.