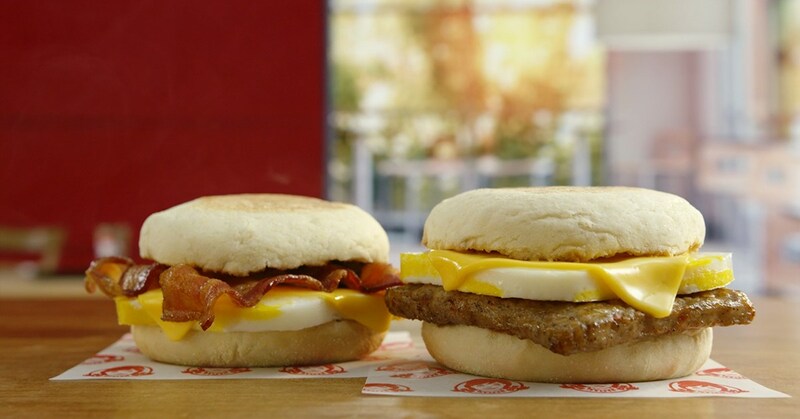 Wake up and smell the English Muffins! On August 22, Wendy's is coming in hot with two NEW English Muffin Sandwiches, complete with a one-of-a-kind savory buttery spread that marries a hint of brown butter sweetness with fresh black pepper. 

Light, fluffy and perfectly pillowy, the new morning additions are topped with a fresh-cracked egg, your choice of oven-baked Applewood Smoked bacon cooked daily(unlike the other guys…)or a savory grilled sausage patty and finished off with melted American cheese. Is your mouth watering yet?
To celebrate the craveable new addition, fans can enjoy $2 OFF by redeeming the $2 off any Breakfast Combo offer in the app from August 22 through September 3.* The perfect excuse to get your hands on the new breakfast addition!
WHERE & WHEN:
The new English Muffin sandwiches are available at Wendy's restaurants nationwide beginning August 22 during breakfast hours. Consider it one less reason to hit snooze in the morning!
To enjoy $2 off your English Muffin Combo, make sure to stop in during breakfast hours by September 3 and use the $2 off any Breakfast Combo offer in the app.*
WHY:
Wendy's saves fans from boring and bland breakfast options by bringing fresh twists on familiar flavors to the morning, with items like the Breakfast Baconator®, Homestyle French Toast Sticks, NEW
Frosty® Cream Cold Brew, and now the soon-to-be fan-favorite, English Muffin Sandwiches. A year and half in the making, it's the English Muffin Sandwich fans know and love, made the Wendy's way with the best breakfast ingredients in the game.
"Fans asked and we answered. As breakfast boundary breakers, we're always looking to cook up new craveable breakfast offerings to add to our stacked breakfast lineup, and we have high standards for what ultimately makes it onto our menu" said John Li, Global Vice President of Culinary Innovation for The Wendy's Company. "We tested 60 variations of our English Muffin Sandwiches before we landed on these light and fluffy English Muffins made with a touch of honey and topped with a savory buttery spread, fresh cracked eggs and delicious bacon or sausage for the perfect harmony of breakfast flavors!"
---
SOURCE The Wendy's Company