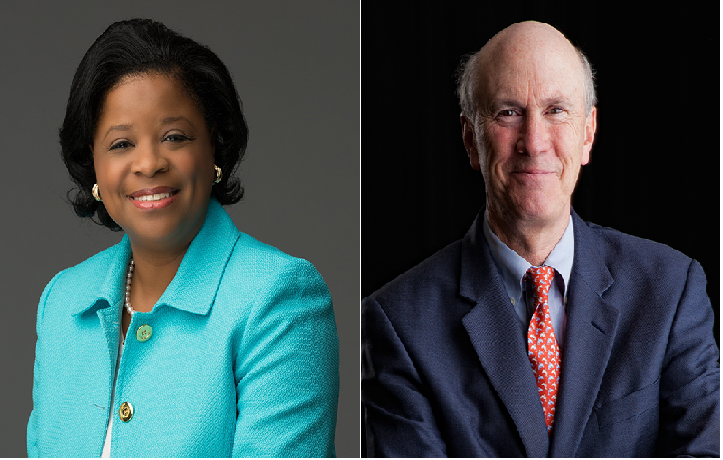 The Georgia Historical Society announced this week that Shan Cooper and Frank Blake have been elected to serve as the newest members of the GHS Board of Curators.

"The Leadership of the GHS Board of Curators is vital to the success of the Society's mission," said Dr. W. Todd Groce, President and CEO of the Georgia Historical Society. "We are excited to have Shan Cooper and Frank Blake join this team of talented and dynamic leaders and know that the mission of the Georgia Historical Society will benefit greatly from their service."
Shan Cooper is the Executive Director for the Atlanta Committee for Progress, which provides leadership on key issues important to economic growth and inclusion for the citizens of Atlanta. She is the former Chief Transformation Officer of WestRock in Norcross and former Vice President and General Manager of Lockheed Martin Aeronautics Company in Marietta.
Shan was named one of Black Enterprise magazine's Most Powerful Executives in Corporate America in 2017, the Most Respected Business Leader by Georgia Trend in 2015, and one of the 2015 Women of the Year by American Association of University Women.
She serves on the Georgia Power Board of Directors, the Board of Directors for the Girl Scouts of Greater Atlanta, and the Board of Trustees of both Emory University and the Woodruff Arts Center, and was recently named to the Board of Atlantic Capital Bancshares, Inc. and Atlantic Capital Bank of Atlanta. Additionally, Ms. Cooper is a member of the Rotary Club of Atlanta and a life member of the Board of Councilors for the Carter Center.
She earned a bachelor's degree in biology and religion from Emory University and an MBA from the Roberto Gouizueta Business School at Emory University. She is also a graduate of the Rutgers University Executive Masters in Global Human Resource Leadership Program.
Frank Blake served as Chairman and CEO of The Home Depot from January 2007 through November 2014, and then as chairman through January 2015. Frank joined The Home Depot in 2002 as executive vice president, Business Development and Corporate Operations.
The Boston native previously served as Deputy Secretary for the U.S. Department of Energy and in a variety of executive roles at General Electric, including Senior Vice President, Corporate Business Development.
Blake's public-sector experience also includes having served as General Counsel for the U.S. Environmental Protection Agency, Deputy Counsel to Vice President George Bush, and law clerk to U.S. Supreme Court Justice John Paul Stevens.
He serves on the Board of Directors for the Georgia Aquarium, Proctor & Gamble, Macy's, and is currently serving as Chairman of the Delta Air Lines and Grady Hospital boards. Additionally, he sits on the Board of Trustees at Agnes Scott College. He holds a bachelor's degree from Harvard University and a jurisprudence degree from Columbia University School of Law.
The GHS Board of Curators is chaired by Walter M. "Sonny" Deriso (Atlanta/Albany) the Chairman and a director of Atlantic Capital Bancshares, Inc. and Atlantic Capital Bank. Other officers are Thomas M. Holder (Atlanta), Vice Chairman; Doug Hertz (Atlanta), Secretary; and H. Jerome Russell, Jr. (Atlanta), Treasurer.
Ms. Cooper and Mr. Blake will join fellow Curators James H. Blanchard, Ex-Officio (Columbus), Ellen B. Bolch, Ex-Officio (Savannah), W. Paul Bowers, Ex-Officio (Atlanta), Dolly Chisholm (Savannah), A.D. "Pete" Correll (Atlanta), Erroll B. Davis, Jr. (Atlanta), Reed Dulany III (Savannah), Lawrence L. Gellerstedt III (Atlanta), John F. McMullan, Ex-Officio (Atlanta), Sam Nunn, Honorary (Atlanta), Mark V. Smith, (Savannah) Kessel D. Stelling, Jr. (Columbus/Atlanta), Clyde C. Tuggle (Atlanta), Don L. Waters (Savannah), and Philip Wilheit, Sr. (Gainesville).
The new GHS Board of Curators will be seated July 1, 2019.