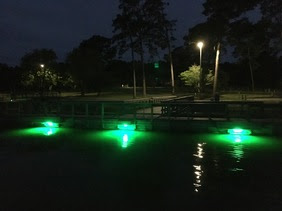 Time for an all-nighter! Starting May 1 and running through Sept. 30, nine Georgia Public Fishing Areas (PFA) will offer night fishing opportunities, according to the Georgia Department of Natural Resources' Wildlife Resources Division (WRD).

"This new night fishing opportunity is a great example of your fishing license dollars at work, and part of our ongoing efforts to enhance angler access and opportunity," says Matt Thomas, Chief of the WRD Fisheries Management Section. "During the hot days of summer, anglers will be able to get a whole different experience at each of these PFAs by visiting them at night – and we are excited to hear about the stories they will tell!"
Fisheries staff have installed lights on fishing piers, and in parking lots at the 9 PFAs that will be open to night fishing. Those PFAs include Big Lazer, Dodge County, Evans County, Flat Creek, Hugh Gillis, Marben Farms (Charlie Elliott), McDuffie, Ocmulgee, and Paradise.
PFAs offer a wide variety of fishing opportunities, from lakes several hundred acres in size to ponds less than one acre. At most locations, anglers can fish from a boat, along the shoreline or from a pier. While PFAs are primarily managed for fishing, they also offer other family-friendly, day-time activities. Many PFAs have picnic tables, nature and wildlife observation trails, fish cleaning stations and restroom facilities. Some offer primitive campsites for those wishing to stay overnight on the area, and many facilities are accessible to persons with disabilities.
For more information on Georgia PFAs, visit http://georgiawildlife.com/allpfas.