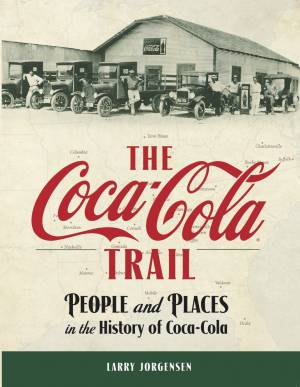 Did you know that
Coca-Cola once sold the rights to bottle Coca-Cola throughout
the United States for $1.00.
And what about that Coca-Cola was first bottled in Vicksburg, Mississippi, not Atlanta…?
These are just two of the stories revealed in a newly
published book, "The Coca-Cola Trail", People and Places in the History
of Coca-Cola.
The new book covers the lesser-known Georgia-based history, including stories from Valdosta, Cedartown, and Griffin. 
The book details thirty chapters and over 200 pages of real stories of those pioneer
bottlers; the challenges they faced, and how they were instrumental in creating
the world's most recognized brand.
The "Trail" takes readers to places where Coca-Cola history is told through
historic buildings, local museums, restored outdoor murals, memorabilia
collections and related displays.
The author, Larry Jorgensen, spent over two years interviewing Coca-Cola
families and conducting extensive research in current and former Coca-Cola
communities. His book is complete with historic photos and photos of modern day sites throughout
each chapter.