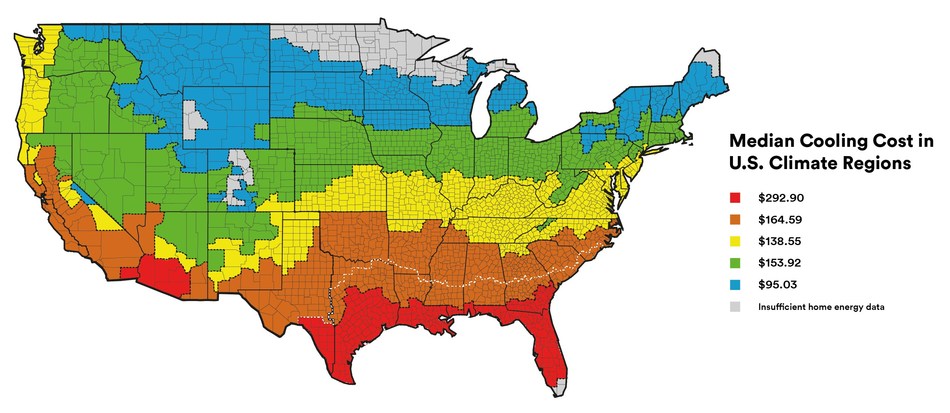 Summer is here and temperatures are only set to rise. So where does Georgia fall with regard to cooling costs?
Quite close to the top.
A smart home energy monitoring company recently evaluated the electricity date of 1,600 homes across the country. Sense looked at how much it costs to stay cool.
In this week's Map Monday, we look at the findings.
Key Points:
Residents along the country's South coast from 

Texas

 to 

Florida

 and in 

Arizona

 pay twice as much to stay cool in the summer as the average U.S. resident and nearly triple the cost of residents in Northern states like 

Maine

 and 

Montana

.

Arizona

, 

New Jersey

 and 

Texas

 are the most expensive states to stay cool in summer.
The biggest homes cost a lot more to cool. A 4000-foot home costs 

$114

 more over the summer than a 2500-foot home on average—a 71% increase.  Larger homes also have a wider range of cooling costs, suggesting that there are more ways to waste energy with bigger HVAC systems (see tips below).
The analysis conducted by Sense found that residents of the country's south coast from Texas to Florida and in Southern Arizona pay nearly twice as much as most U.S. residents and three times as much as residents in northern regions of the country. Their median cost to stay cool in summer 2018 was $292.90, compared to $147.82 across most of the U.S., and $95 along the Canadian border.
The 10 most expensive states this summer
Arizona's heat makes it the most expensive state to cool a home in, cooling at $477, followed by Texas, Florida and Georgia.
New Jersey is in the second most expensive tier, coming in at $327, due to a combination of higher-than-average AC usage and high utility costs, and Maryland ($208) was also among the top 10 most expensive states. Other top 10 listed states include Connecticut, New York and Rhode Island, all of which have warm summers and among the highest utility rates in the country. Kansas was the only Plains state to make the top 10 list.
Colorado, Oregon, and Washington are among the least expensive places to stay cool in the summer.
According to the press release issued by Sense, home size plays a major role. Bigger homes obviously have a higher cost to cool. Sense reports that a 2,500 square foot home (which is close to the U.S. median house size of 2,436 square feet) costs $133 to cool over the summer months, on average. Homes larger than 4,000 square feet jump to $227 in median cooling costs over the summer, a 71% increase, and the top 25% of those 4000+ homes pay an average of $463 on cooling for the summer. An important insight for those large homeowners: there are more ways to go wrong with cooling a big home.
| | |
| --- | --- |
| Square Footage | Cooling Cost |
| 500 | $67.70 |
| 1000 | $72.06 |
| 1500 | $129.23 |
| 2000 | $125.52 |
| 2500 | $133.14 |
| 3000 | $167.35 |
| 3500 | $181.05 |
| 4000+ | $226.96 |