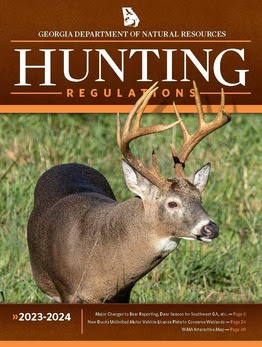 To get you ready, the new 2023-2024 Georgia Hunting Seasons and Regulations Guide is now available online, on the Go Outdoors GA app, and in print, announces the Georgia Department of Natural Resources' Wildlife Resources Division.
This guide provides important information on season dates, bag limits, hunting licenses, wildlife management areas (WMAs), quota hunts, youth opportunities and so much more.
View the guide (or download) online at eregulations.com/georgia/hunting/ or on the Go Outdoors GA app. Pick up a printed copy at Wildlife Resources Division offices and license vendors throughout Georgia.
MAJOR CHANGES:
Bear Harvest Reporting: All harvested bears must be reported via Georgia Game Check (northern, central, southern, public and private land) within 24 hours of harvest. All bears must be presented for collection of biological samples in accordance with the zone-specific requirements (see p. 30 of the hunting guide).
Central Bear Zone: If fewer than six (6) female bears are harvested on Dec. 16, 2023, a second hunt day will be opened.
Either-sex Deer Opportunity: The number of 'doe days' has been increased in most counties. Find info about your county on pp. 22-23 of the hunting guide.
Extended Archery Deer Season: Archery deer season has been extended to January 31 in Baker, Early, Grady, Miller, Mitchell, Richmond and Thomas Counties.
Southwest GA Archery Buck Only Days & Firearms Extension: The first 16 days of archery season in Baker, Decatur, Early, Grady, Miller, Mitchell, Seminole, and Thomas Counties is antlered deer only. Additionally, firearms deer season ends Jan. 15 in Baker, Decatur, Early, Grady, Miller, Mitchell, Seminole and Thomas Counties.
For more information on hunting in Georgia, visit GeorgiaWildlife.com/hunting/hunter-resources or contact a local Wildlife Resources Division office (GeorgiaWildlife.com/about/contact).