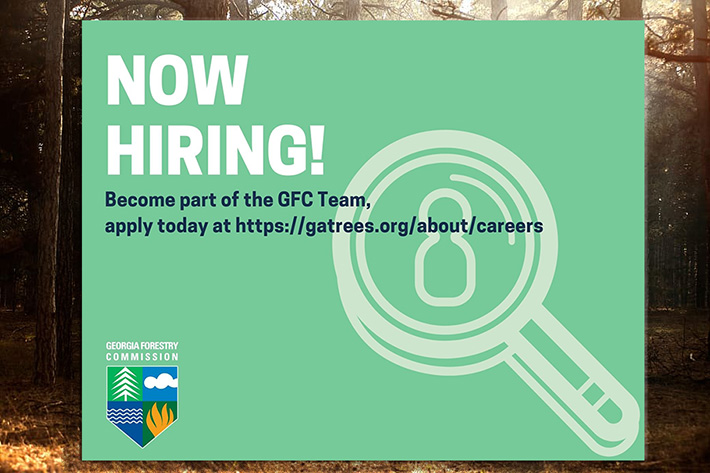 The Georgia Forestry Commission is hiring for several wildland firefighter positions throughout the state. All positions are full-time.

Applicants must have a commercial learner's permit (CLP) prior to hire date and the ability to obtain a CDL within 12 weeks. GFC will train
Georgia Forestry Commission's elite workforce is focused on conserving and protecting Georgia's forest resources. Our highly trained wildland firefighters enjoy a dynamic work environment, become experts in the field of wildland fire suppression/prevention, and become part of a unique, all hazard response state agency.
Ranger/Wildland Firefighter job duties:
Must live and/or relocate to within 45 minutes of assigned work location.

Under close supervision receives training and instruction in fire control duties using heavy equipment.

Assists with maintaining buildings, grounds, and equipment.

Participates in forestry related services and programs such as reforestation, community and school activities.

Controls and extinguishes fires using manual and power equipment.

Ensures proper operation and maintenance of firefighting equipment.

Inspects property to ensure compliance with laws, codes, and regulations.

Operates fire engines and hoselays.

Performs upkeep and maintenance of buildings, grounds, and equipment.

Prepares reports.

Carries out the implementation of fire prevention campaigns.

Operates commercial class transport and medium to heavy duty crawler tractor in wild land fire suppression and construction of pre-suppression fire breaks.

Responds to fire calls and other requests for assistance, such as accidents and other emergencies.

Participates in a rotating "on call" schedule to respond to requests for assistance after hours and on weekends/holidays.
See locations and apply HERE.