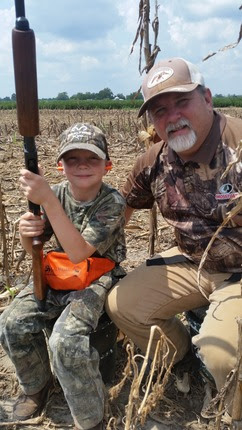 The Georgia dove hunting season opens Saturday, September 2, 2023, according to the Georgia Department of Natural Resources' Wildlife Resources Division (WRD).

"The anticipation for the fall hunting season really takes off on the opening day of dove hunting season in Georgia and it is another great opportunity to take someone new with you into the field," says Kara Nitschke, WRD Wildlife Biologist. "And be sure to visit a public dove field this year. These fields, whether found on a Wildlife Management Area or a Voluntary Public Access area, receive dedicated preparation to attract as many doves as possible."
The official 2023-2024 dove season hunting dates are Sept. 2-Oct. 8, Nov. 18-26 and Dec. 19 – Jan. 31. Statewide shooting hours for all dove seasons are one-half hour before sunrise to sunset.
Dove Season Tips and Information:
For more information on dove hunting in Georgia, visit GeorgiaWildlife.com/migratory-bird-info.
---
Hunter Education Course
Before you pick the best dove field to visit this year, be sure you have completed a hunter education course.
Hunters can take the course completely online or take part in a classroom course, according to the Georgia Department of Natural Resources' Wildlife Resources Division.
"We want to set people up for hunter education success before they head to the dove field or the hunting stand, and that means working with busy schedules and different learning styles," says Jennifer Davison, Hunter Development Program Manager with the Wildlife Resources Division. "For example, if you only have a limited amount of time available, then the online course options may work for you, while attending an in-person instructive class may work for others."
The five available online courses each require a fee (from $19.95 – $49.95) but all are "pass or don't pay" courses. Fees for these courses are charged by and collected by the independent course developer. The DNR classroom course is free of charge.
Completion of a hunter education course is required for any person born on or after January 1, 1961, who:
purchases a season hunting license in Georgia.
is at least 12 years old and hunts without adult supervision.
hunts big game (deer, turkey, bear) on a wildlife management area.
The only exceptions include any person who:
purchases a short-term hunting license, i.e., anything less than annual duration (as opposed to a season license).
is hunting on his or her own land or is a dependent hunting on land of his or her parents or legal guardians.
For more information, go to GeorgiaWildlife.com/hunting/huntereducation or call 706-557-3355