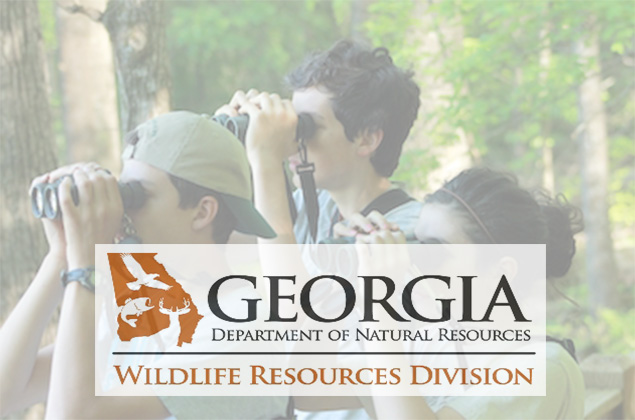 Six projects selected for Georgia DNR Wildlife Viewing Grants promise new opportunities for Georgians to enjoy native animals and plants across the state.
Grant projects announced today by the Georgia Department of Natural Resources will improve public opportunities to see and learn about native animals and plants statewide. The six proposals selected by the DNR Wildlife Resources Division as 2021 recipients in the Wildlife Viewing Grants Program range from Cairo to Covington and from Varnell to Tybee Island.
The grants program, funded by the Georgia Nongame Wildlife Conservation Fund, helps develop and enhance wildlife viewing options, with an emphasis on State Wildlife Action Plan species and habitats. Georgia's Wildlife Action Plan (georgiawildlife.com/wildlifeactionplan) is a comprehensive strategy to conserve these animals, plants and places before they become rarer and costlier to conserve or restore.
The 2021 proposals include:
Georgia Wildlife Federation – $3,000 for signage and outreach for an expanded wildlife trail through prescribed fire demonstration areas, along with signage for a swamp trail at the federation's Alcovy Conservation Center in Covington.
Prater's Mill Foundation – $2,938 to build two wildlife viewing platforms along Coahulla Creek nature trails at Prater's Mill Historic Site in Varnell.
Wolf Creek Trout Lily Preserve – $2,844 for trail upgrades to improve access at the Grady County preserve near Cairo.
Georgia Audubon – $1,996 for signage to help visitors spot and identify birds at Constitution Lakes Park in Atlanta.
Georgia 4-H Foundation – $3,000 to install two wildlife viewing gardens featuring native plants at the Burton 4-H Center on Tybee.
ABAC Foundation – $2,097 to replace the boardwalk in a nature study area at Abraham Baldwin Agricultural College in Tifton.
These projects include work and spending by partners that will significantly amplify the grants provided.
Jon Ambrose, Ph.D., chief of DNR's Wildlife Conservation Section, said the end result is that Georgians and others will have more options to experience the state's native wildlife, including high-priority species and habitats identified in the Wildlife Action Plan.
"And with the pandemic imposing limitations on all of us," Ambrose added, "wildlife viewing is a healthy and engaging outdoors activity that can be enjoyed by people of all ages and requires little or no investment except for time."
The grants are small – capped at $3,000 each – but the interest they tap is big. According to a U.S. Fish and Wildlife Service survey, about 2.4 million people took part in wildlife-viewing activities in Georgia in 2011. The survey estimated related spending at $1.8 billion. Nationwide, the number of people involved in wildlife viewing surged from about 72 million in 2011 to 86 million in 2016, the agency reported.
Among other work, last year's wildlife viewing grants helped add commercial-grade binoculars focused on a freshwater pond and wood stork rookery at Oatland Island Wildlife Center in Savannah, install bat houses and native plant plots in a Watkinsville city park, and upgrade the platform overlooking a granite outcrop at Panola Mountain State Park in Stockbridge.
The Wildlife Conservation Section is charged with restoring and conserving nongame wildlife, rare native plant species and natural habitats through research, management and education. The section depends largely on fundraisers, grants and donations to the Nongame Wildlife Conservation Fund. Sales and renewals of DNR's eagle, hummingbird and new monarch license plates are the leading fundraiser.
---
LEARN MORE