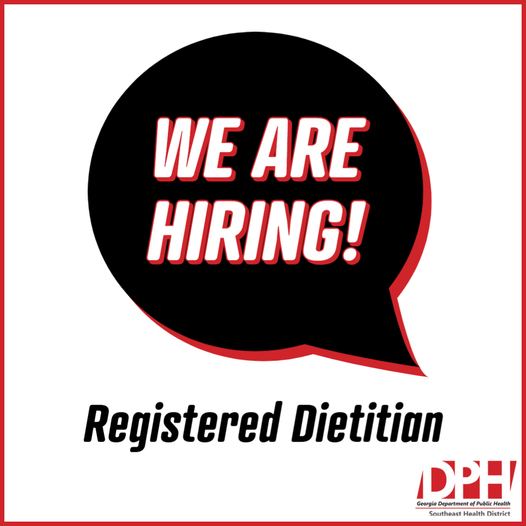 The Georgia Department of Public Health's Southeast Health District is currently seeking a qualified Registered Dietitian.

According to DPH, the location is negotiable and would be Bulloch Wellness Center in Statesboro or Coffee Wellness Center in Douglas. The position is full-time with a salary.
Job Responsibilities:
Will work as a member of the HIV medical care team evaluating nutritional status based on appropriate biochemical, anthropometric, physical, and dietary data, and providing nutritional care/therapies. Will utilize current HIV medical nutritional therapy protocols and other evidence-based guidelines. Will coordinate services for medically and nutritionally high-risk patients through case management and care coordination. Will educate clinic personnel, patients, and the community about nutrition and dietetics as needed. Will maintain appropriate written documentation and participate in quality improvement activities. This job may require travel.
Minimum Qualifications:
Bachelor's degree in dietetics, human nutrition, food and nutrition, nutrition education, food systems management or a closely related field from an accredited college or university from an Academy of Nutrition & Dietetics accredited program AND One year of experience as a dietitian/nutritionist AND registration as a Dietitian by the Academy of Nutrition & Dietetics Commission on Dietetic Registration AND licensure as a Dietitian in the State of Georgia.
Preferred Qualifications:
Current knowledge of scientific principles and practices of normal and therapeutic clinical nutrition and dietetics, especially as it pertains to the HIV population.
For more information, such as benefits, and to apply, visit the listing online HERE.