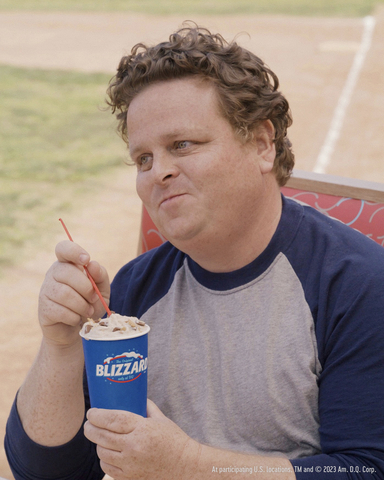 Okay, pay attention – this is how DQ® does s'mores stuff with help from the master of s'mores himself, Patrick Renna! As the post-game spot for summer activities, American Dairy Queen Corporation (ADQ) has teamed up with the actor turned Tik Tok icon to celebrate the return of the S'mores Blizzard® Treat.
The most requested flavor as part of this season's NEW Summer Blizzard Treat Menu, the S'mores Blizzard Treat stars alongside Patrick in a social media video as he provides thorough instructions on the perfect way to devour the treat, which happens to be ranked No. 1 by fans*.
"We heard the many, many requests from our fans. With the help of s'mores connoisseur Patrick Renna, we are excited to celebrate the return of this beloved Blizzard Treat as we head into the summer season," said Maria Hokanson, executive vice president, marketing at ADQ. "In addition to the S'mores Blizzard Treat, the Summer Blizzard Menu features a variety of delicious flavors for fans to discover and enjoy all summer long."
Additional content featuring Renna and the S'mores Blizzard Treat will roll out on DQ's Instagram and Tik Tok accounts over the next few days.
"Knowing a thing or two about s'mores, I can confidently say DQ perfected this treat in Blizzard Treat form. It's the perfect way to round out a summer day, no matter what you have planned," said Renna.
Whether you're hitting the sand of a baseball diamond or at your nearest beach, the NEW Summer Blizzard Treat Menu has five sensational flavors to enjoy this season because DQ is THE summer post-activity destination. The menu includes:
New! Peanut Butter Puppy Chow Blizzard Treat: Crispy peanut butter puppy chow pieces, peanut butter topping and choco chunks blended with world-famous DQ vanilla soft-serve.
New! OREO® Brookie Blizzard Treat: OREO® cookie pieces and brookie pieces (brownie and cookie) blended with world-famous DQ vanilla soft-serve.
S'mores (It's back!) Blizzard Treat: Marshmallow filled chocolates and graham blended with world-famous DQ soft serve.
Cotton Candy (It's back!) Blizzard Treat: Cotton candy sprinkles blended with world-famous DQ vanilla soft-serve.
Choco Dipped Strawberry (It's back!) Blizzard Treat: Strawberry and choco chunks blended with world-famous DQ soft serve.
The Summer Blizzard Treat Menu is available now at participating locations for a limited time only.
*Among 19 popular Blizzard Treat flavors.
---
About IDQ:
International Dairy Queen, Inc., based in Minneapolis, Minnesota, is the parent company of American Dairy Queen Corporation and Dairy Queen Canada, Inc. Through its subsidiaries, IDQ develops, licenses and services a system of more than 7,000 restaurants in the United States, Canada and more than 20 other countries. IDQ is a subsidiary of Berkshire Hathaway, Inc. (Berkshire), which is led by Warren Buffett, the legendary investor and CEO of Berkshire. For more information, visit DairyQueen.com.
About Patrick Renna:
In 1993, actor, Patrick Renna became an overnight cultural icon at just fourteen years old when he starred in a legendary baseball movie. The movie made him one of the most recognizable faces in modern baseball culture. Since then, his face has been plastered on countless t-shirts, posters, mugs, etc.
In short, baseball completely changed his life. Being so connected to the sport, he realized early on the profound impact it has on our youth as America's national pastime. In many ways, baseball brings about the things we love most about humanity: drive, dignity, passion, camaraderie, and respect.
Renna recently launched Hambino Athletics alongside his longtime friend and fashion industry veteran Jessie Willner; it's a unisex, inclusive, nostalgic clothing brand that captures the good-natured spirit associated with baseball and inspires the continued love of the game. In addition to the launch, Patrick and his team created the Hambino Foundation which will provide support to young athletes and youth organizations in underserved communities throughout the United States.
IDQUS for Food, Treats & Beverages – US
---
Source: International Dairy Queen