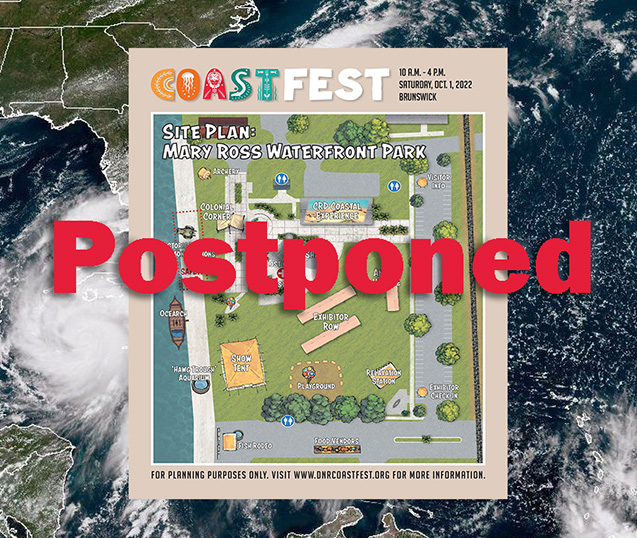 CoastFest 2022, planned for Saturday, Oct. 1, in Brunswick, has been postponed due to the potential impacts of Hurricane Ian, the Coastal Resources Division (CRD) of the Georgia Department of Natural Resources announced today. 
"We were hoping the storm's path would change and allow us to host CoastFest this year, but the current trajectory does not appear to be in our favor," said Tyler Jones, a public information officer for CRD and the CoastFest coordinator. "The logistics that go into putting the event together require several days of preparation, and the possible impacts from Hurricane Ian look like they will prevent that."
CRD is currently looking at potential make-up dates for CoastFest in the coming months, but no date has been set or decisions made, Jones added.
"We know what an important event this is to the community, especially young people, and we are as disappointed as anyone," Jones said. "We appreciate everyone's understanding and encourage everyone who may potentially be impacted by the storm to prepare now."
The public can sign up for future updates about CoastFest make-up dates by clicking here or following on Facebook at www.Facebook.com/CoastFest. Exhibitors who registered for CoastFest 2022 will be contacted by email about a future date.
Members of the public are encouraged to visit www.NOAA.gov/hurricane-prep for tips on preparing for this and other hurricane-level storms. Updates about this and other storms is available at the National Hurricane Center's website at www.NHC.NOAA.gov.