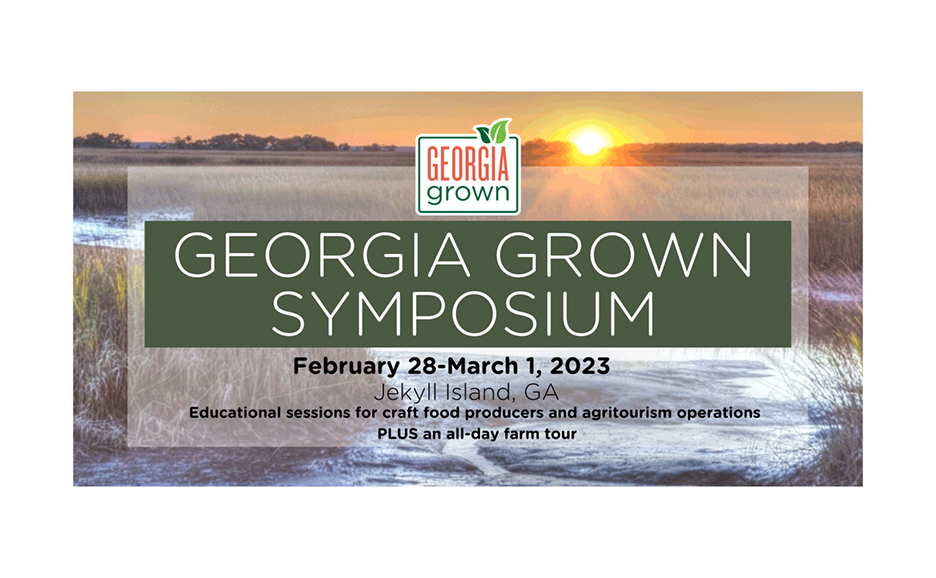 The Georgia Grown Agriculture Commodity Commission and the Georgia Department of Agriculture recently announced the 2023 Georgia Grown Symposium being held in coastal Georgia at the Jekyll Island Convention Center February 28 and March 1.

This year's symposium will be a two-day event with educational sessions offered on day one geared toward Georgia Grown artisan makers and agritourism operators. During Tuesday's symposium attendees will be able to visit with exhibitors throughout the day who offer business services to Georgia Grown members.
On day two, Wednesday, March 1, attendees will have an exciting opportunity to attend an all-day farm tour to visit agritourism operations in the area and includes a chartered bus and lunch.
Paid Georgia Grown members: Don't forget to enter your promo code for a discount on this item. Check your latest Georgia Grown newsletter for the discount code. Discount *ONLY* applies to those attending the FULL event. Georgia Grown member discounts do *NOT* apply for symposium-only tickets or exhibitors. If you are not a member of the Georgia Grown program, please visit https://www.georgiagrown.com/members/register to join today.
Two forms of registration will be offered:
(Tuesday) Symposium only: Registration includes breakfast, educational sessions, lunch, and a snack break. The cost to attend is $100.
(Tuesday & Wednesday) Symposium and Farm Tour: Registration includes breakfast, educational sessions, lunch, and a snack break on Tuesday. Wednesday's farm tour includes bus fare and lunch. Farm tour tickets are limited. The cost to attend Tuesday and Wednesday is $150.
Exhibitor Registration: Exhibitor Registration is $250 and includes 1 single-day registration (no farm tour), 1-6ft table, 2 chairs and a wastebasket. Electricity is available only if requested. Exhibitor Registration closes February 14, 2023- Space is limited. Exhibitor setup: Monday, February 27 from 12:00 p.m. – 5:00 p.m. and Tuesday, February 28 from 7-8:30 a.m. All exhibitor booths must be set up by 8:30 a.m. on Tuesday, February 28. Booths will be open to attendees from 8:30-5:30 on Tuesday, February 28.
Lodging Information
Registration block for discounted room rate is now closed.
The Westin Jekyll Island
110 Ocean Way
Jekyll Island, GA 31527
For questions, contact Kelli Williams by email at Kelli.Williams@agr.georgia.gov. Include Symposium Question in your subject line.