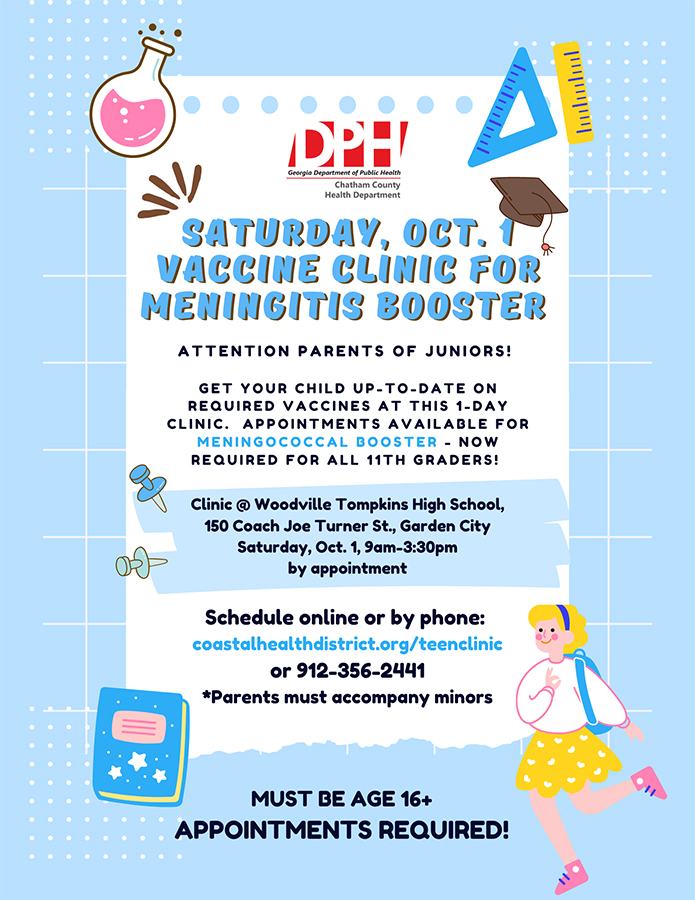 The Chatham County Health Department is holding a special Saturday clinic to help local high school juniors get up to date with vaccines required for school attendance.
The clinic is by appointment only, and will be held Saturday, October 1st at Woodville Tompkins High School in Garden City. This clinic will provide the meningitis booster vaccine that is now required for all children in 11th grade who are at least 16 years of age. The new vaccine requirement became effective last summer, but this is the first year the requirement is being enforced. Students will not be able to remain in school without proof of vaccination or a documented religious exemption.
Appointments are required and can be scheduled online at coastalhealthdistrict.org/teenclinic or by calling the Chatham County Health Department at 912-356-2441. A parent or guardian must accompany the child to the appointment. Insurance will be billed when available, but there will be no out-of-pocket cost for the vaccination regardless of insurance status.
The meningococcal booster shot helps prevent meningococcal disease, a bacterial infection that is very serious and can be deadly in a matter of hours. Meningitis is a swelling of the brain and spinal cord and can result in brain damage, hearing loss, or worse. Disease levels increase in adolescence starting around age 11, and peak around age 19 years. Georgia students already receive a meningococcal vaccination before entering 7th grade, and this new booster will provide added protection during these peak years of risk.