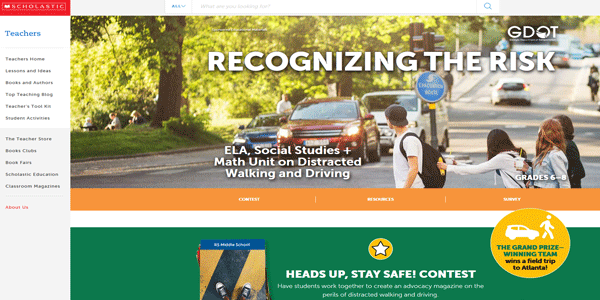 The Georgia Department of Transportation (Georgia DOT) has joined with Scholastic, the global children's publishing, education and media company, on a multi-year educational initiative designed to help educate the next generation of drivers. Developed for middle school students across the state, the powerful campaign called "Recognizing the Risk" provides students, teachers and parents with valuable resources addressing the dangers of distracted driving and walking. The program builds upon Georgia DOT's existing Drive Alert Arrive Alive and See & Be Seen campaigns.

As a result of the collaboration, Georgia teachers are providing their students with a number of classroom activities focused on promoting pedestrian and driver safety by discussing the hazards of texting, headphones and more. The program enables teachers, students and parents alike to engage in a wide range of collaborative discussions on real-world scenarios to foster responsible and safe alternatives to risky behaviors.
"In 2018, 70 percent of the 1,514 fatalities on Georgia roads occurred as a result of distracted behavior, including 265 fatalities involving pedestrians," said Russell R. McMurry, Commissioner, Georgia Department of Transportation. "Georgia DOT is proud to partner with Scholastic in this crucial outreach program to inspire positive social behaviors among Georgia's youth well before they obtain their driver's license and get behind the wheel. Safety on our roadways is a top priority for Georgia DOT. With the introduction of 'Recognizing the Risk,' the first program in the nation of its kind provided through Scholastic, we aim to educate students around the dangers of distracted walking and driving so that they can play a role in helping friends and family across Georgia stay safe."
"Through the 'Recognizing the Risk' educational program, Scholastic and Georgia DOT encourage students to learn about the risks of distracted walking and driving through the lens of evaluating state-specific statistics and data," said Ann Amstutz Hayes, Senior Vice President, Scholastic National Partnerships. "Our goal is for students to become advocates for safer walking and driving practices within their communities, while supporting educators in their teaching of statewide standards."
In conjunction with the "Recognizing the Risk" program, Scholastic and Georgia DOT are also holding a "Heads Up, Stay Safe" contest to help reduce distracted walking and driving by having students create their own advocacy magazine. Each four-page magazine should include a brief, informative article on distracted driving and/or walking along with images, facts, statistics, graphs and helpful tips members of the community can put to use immediately. The grand prize-winning team and their class will receive a field trip to Georgia DOT's headquarters in Atlanta and three additional teams will win a school-wide assembly. Design entries are due October 28, 2019 and full rules and entry for the contest can be found on the Scholastic website.
For more information on the "Recognizing the Risk" program, click here.