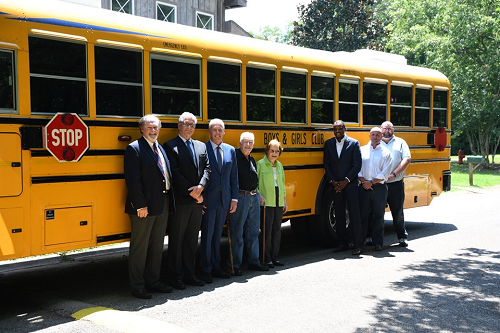 Former President Jimmy Carter Receives Keys to a Blue Bird School Bus for Non-Profit Organization in Albany, Georgia
Children enrolled in Boys & Girls Clubs of Albany have a new means of transportation. At a private event at the Jimmy & Rosalynn Carter Unit in Plains, Georgia, Blue Bird employees delivered a gasoline-powered Blue Bird Vision school bus to President Jimmy Carter and the Clubs, which serve communities in Albany, Plains and Montezuma, Georgia.
The new bus will transport children to after-school programs and on field trips and outings. For children in many of the area's rural communities, transportation to Boys & Girls Clubs activities is severely limited.
"We are extremely grateful for this donation, as it allows us to fulfill our mission," said Marvin B. Laster, CEO of Boys & Girls Clubs of Albany. "It is paramount to our organization, as transportation is a huge challenge in these communities. We need our children to have access to the programs we offer, and this bus will be an integral part of our operations."
The Boys & Girls Clubs of Albany have been in operation for over 50 years, and serve more than 3,000 children through membership and outreach programs. Former President Jimmy Carter and First Lady Rosalynn Carter are honorary co-chairs of the Clubs, dedicating much of their time to the organization.
"Blue Bird's donation of this brand-new school bus is greatly appreciated," President Carter said. "It is heartwarming to see an organization like Blue Bird, which has been an important part of the South Georgia community, continuing to serve children through the gift of transportation to Boys & Girls Clubs of Albany."
The Blue Bird Vision Gasoline bus is a good fit for the organization, as the engine is easier to maintain and fuel availability allows travel for field trips and outings.
"When President Carter asked for our help, we were delighted to assist such a worthy cause," said Phil Horlock, president and CEO of Blue Bird Corporation. "We have been a part of the community in South Georgia since 1927, and it's our pleasure to provide the Boys and Girls Clubs with safe and reliable transportation for their children."
The bus will start transporting students later this year.
This is a press release from Blue Bird.