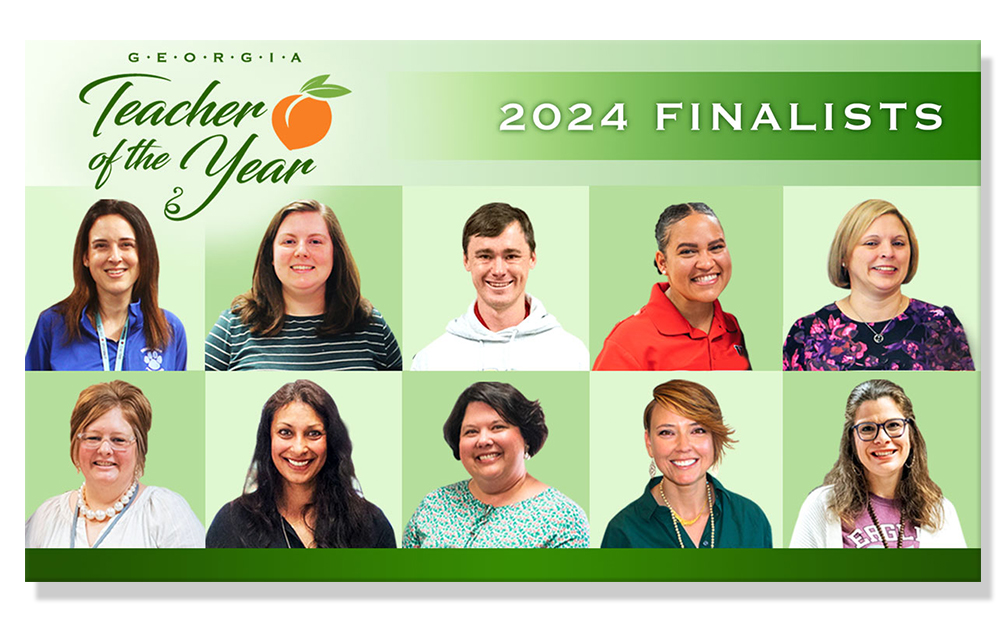 State School Superintendent Richard Woods today announced the full list of finalists for 2024 Georgia Teacher of the Year.
Throughout the month of March, Superintendent Woods surprised each finalist in their classroom to let them know they'd been selected. All 10 finalists will meet with a panel of judges for formal interviews and speeches before the 2024 Georgia Teacher of the Year selection in June.
"I am so proud of each of these 10 finalists – all are shining examples of our profession and bring great talent and expertise to the classroom each and every day, for the benefit of Georgia's students," Superintendent Woods said. "It was a joy to meet each of them over the past month, and I look forward to the announcement of the 2024 Georgia Teacher of the Year this summer and continuing to work with each of these outstanding educators in the years to come."
The finalists were chosen from a pool of applicants all previously selected as their school district's Teacher of the Year. The applications were read and scored by a group of reviewers that included past Georgia Teacher of the Year winners and finalists along with Georgia Department of Education representatives.
The 2024 Georgia Teacher of the Year will serve as an ambassador for the teaching profession in Georgia and will be entered in the National Teacher of the Year competition.
Georgia Teacher of the Year operates one year ahead to align with the national program; the 2024 Teacher of the Year will serve from July 1, 2023 to June 30, 2024.
The 2023 Georgia Teacher of the Year is Michael Kobito of the Bartow County School System. To learn more about the Georgia Teacher of the Year program, click here.
2024 Georgia Teacher of the Year finalists (in alphabetical order by last name)
Veena Black – DeKalb County Schools
Veena Black is a second-grade teacher and STEM lead at Briarlake Elementary School in DeKalb County Schools. Mrs. Black models her passion for learning in her classroom by empowering her students to be proud of their education and accomplishments. After originally pursuing an engineering degree, she became a teacher. Mrs. Black then attended Emory University and received her Masters of Divinity in 2004. In her last year of seminary, she took child advocacy classes and decided to return to her first love of teaching. Mrs. Black recently received the 2023 Don Cargill STEM 8 Scholar Award.
---
Lucas Brock – Carroll County Schools
Lucas Brock is an agricultural educator at Central Middle School in Carroll County Schools. He believes that assisting students in discovering their passions and celebrating their accomplishments can have lasting impacts on their development. He holds a Bachelor of Science in agriculture and environmental education and a Master of Science in agriculture and environmental education from the University of Georgia, a Specialist in agriscience education from Auburn University, and is enrolled in the Doctor of Philosophy in career and technical education program at Auburn University. Mr. Brock serves as the Central Middle School FFA Chapter Advisor, where he trains 19 different competitive teams and assists members in developing student-led agricultural projects. His students have won numerous area and state awards.
---
Inga Cashon – Tattnall County Schools
Inga Cashon is a Science, Technology, Engineering, and Math (STEM) teacher at North Tattnall Middle School. Mrs. Cashon believes in differentiating lessons to enable all students to learn. She earned her Bachelor of Science in education with an emphasis in technology education, and a Master of Education in Teaching and Learning with an emphasis in engineering and technology education, from Georgia Southern University. She is pursuing a Doctorate of Education in curriculum studies, focusing on engineering and technology education. In 2020, she received the Georgia STEM Scholar Award for her hard work integrating effective STEM education in the classroom.
---
Vanessa Ellis – Muscogee County School District
Vanessa Ellis is an eighth-grade social studies teacher at Veterans Memorial Middle School in the Muscogee County School District. History has always been Mrs. Ellis's passion – in fact, she knew from a young age that she was destined to become a teacher. After graduating from college, she was hired in the school district she attended as a student, teaching alongside the same educators who once impacted her. Mrs. Ellis received her Bachelor of Arts in history and secondary education as well as her Master of Education in secondary social sciences from Columbus State University. In 2017, she was named a Georgia Economics Teacher of the Year by the Georgia Council on Economic Education.
---
Katie Jenkins – Butts County Schools
Katie Jenkins is an Early Intervention Program (EIP) teacher at Stark Elementary School in Butts County Schools. Mrs. Jenkins has over 20 years of experience in the classroom and currently works with kindergarten, second-, third-, and fifth-grade students helping them enhance their math, reading, and life skills. She also works with teachers in all grade levels to support them and helps mentor new teachers. She holds a bachelor's degree in early childhood education from Mercer University, a master's in integrating technology from Walden University, and a specialist's degree in technology management and administration from Nova Southeastern.
---
Laura Lambert – Newton County Schools
Laura Lambert is an AP Biology and Biotechnology teacher at Newton College and Career Academy in Newton County Schools. Ms. Lambert's primary focus is on creating project-based learning experiences that allow her students to connect the real world with the classroom. Professionally, she is most proud of the industry relationships she has been able to build for her students, the expansion of the STEM program in which she teaches, and the capstone research projects her students have produced. She holds a Bachelor of Science in neuroscience from Georgia State University and a Master of Arts in teaching from Piedmont University.
---
Jennifer Lean – Harris County School District
Jennifer Lean is a third-grade teacher at Park Elementary School in the Harris County School District. Mrs. Lean received her Reading Specialist from Auburn University, Master of Education in early childhood from Valdosta State University, Bachelor of Science from Berry College, and an Associate of Arts from Young Harris College. She is certified as an Early Childhood Teacher, Reading Specialist, and holds a Gifted Endorsement. Mrs. Lean began her teaching career at the age of 21 and has taught grades K-5 in a variety of settings across Georgia. Every year of teaching has been framed by her desire to help students think creatively, carefully, and critically. She is interested in issues such as teacher retention, school culture, maximizing learning opportunities, classroom culture, STEAM and all things related to literacy.
---
Brittany Nearhoof – Bryan County Schools
Brittany Nearhoof is an art teacher at McAllister Elementary School in Bryan County Schools. She teaches with the goal of developing learners who think like artists – creative learners who ask questions and generate ideas. She strives to make art fun, inviting, and achievable for all. Mrs. Nearhoof holds a Bachelor of Fine Arts with teacher's certification from Edinboro University in Pennsylvania and a Master of Arts degree from Nova Southeastern University. She has built a blossoming art program at McAllister, is a leadership team member, and is chair of the Fine Arts Night Committee.
---
Katherine Jane Stewart – Walker County School District
Katherine Jane Stewart is a seventh-grade language arts teacher and gifted coordinator at Chattanooga Valley Middle​ School in the Walker County School district. Mrs. Stewart earned a Bachelor of Arts in English education from Lee University and a Master of Education in educational leadership from Kennesaw State University, where she is currently enrolled in the Doctorate of Education in teacher leadership program. In 2012, she was one of 12 teachers chosen to participate in the University of Iowa's Belin-Blank Fellowship program in gifted education. Mrs. Stewart has worked as a teacher in three states and one foreign country, but she is most proud to be recognized as an outstanding educator in the community her family calls home.
---
Christy Todd – Fayette County Public Schools
Christy Todd is a music technology teacher at Rising Starr Middle School in Fayette County Public Schools. Mrs. Todd wants all learners to find their creative superpowers, so much so that she founded Fayette County Public Schools' Community for Creativity (CFC) initiative. As a CFC teacher, she facilitates the program at Rising Starr Middle School, where she teaches classes and supports schoolwide creation of songs, podcasts, videos, audiobooks, and more, which are then released through the school's label, Hall Pass Entertainment. Prior to teaching, Mrs. Todd worked in nonprofit consulting and business development. She received a Bachelor of Music Education from Shorter College and a Master of Music Education from Florida State University.